This is a natural, fresh & delicious way to meet your daily iron requirements.
Cover your daily needs with our cold-pressed iron shots.

No formula. No pill.
No capsule.

100% Natural Iron
from the curry plant.

One shot covers your
daily iron requirement.
from 8x iron shots
With the tasting package you can convince yourself of the unique taste and the 100% freshness.
32x Iron Shots
With the monthly ration you can naturally secure your daily requirement of iron over a month.
You want to subscribe to the Iron Shot?
For long-term use of the iron shot, a flexible monthly subscription is ideal, which you can cancel at any time. With a subscription, you also save 10% on every order!
That's what makes our Eisenshot special.
The chart shows iron-rich, plant-based foods and how much of your iron requirement (at 15mg) you could cover with 60 ml or 60 g of it, if it is completely available to the body. An iron shot from LiveFresh with 60 ml covers your daily iron requirement 100%. In comparison, 60g of spinach, for example, only covers 12% of your daily requirement. In addition, the iron in spinach, millet and lentils is bound to plant substances and is not completely available to the body. Since our curry leaf iron has shown in studies a very good absorption capacity and tolerance for the body, we have chosen this extremely valuable source of iron.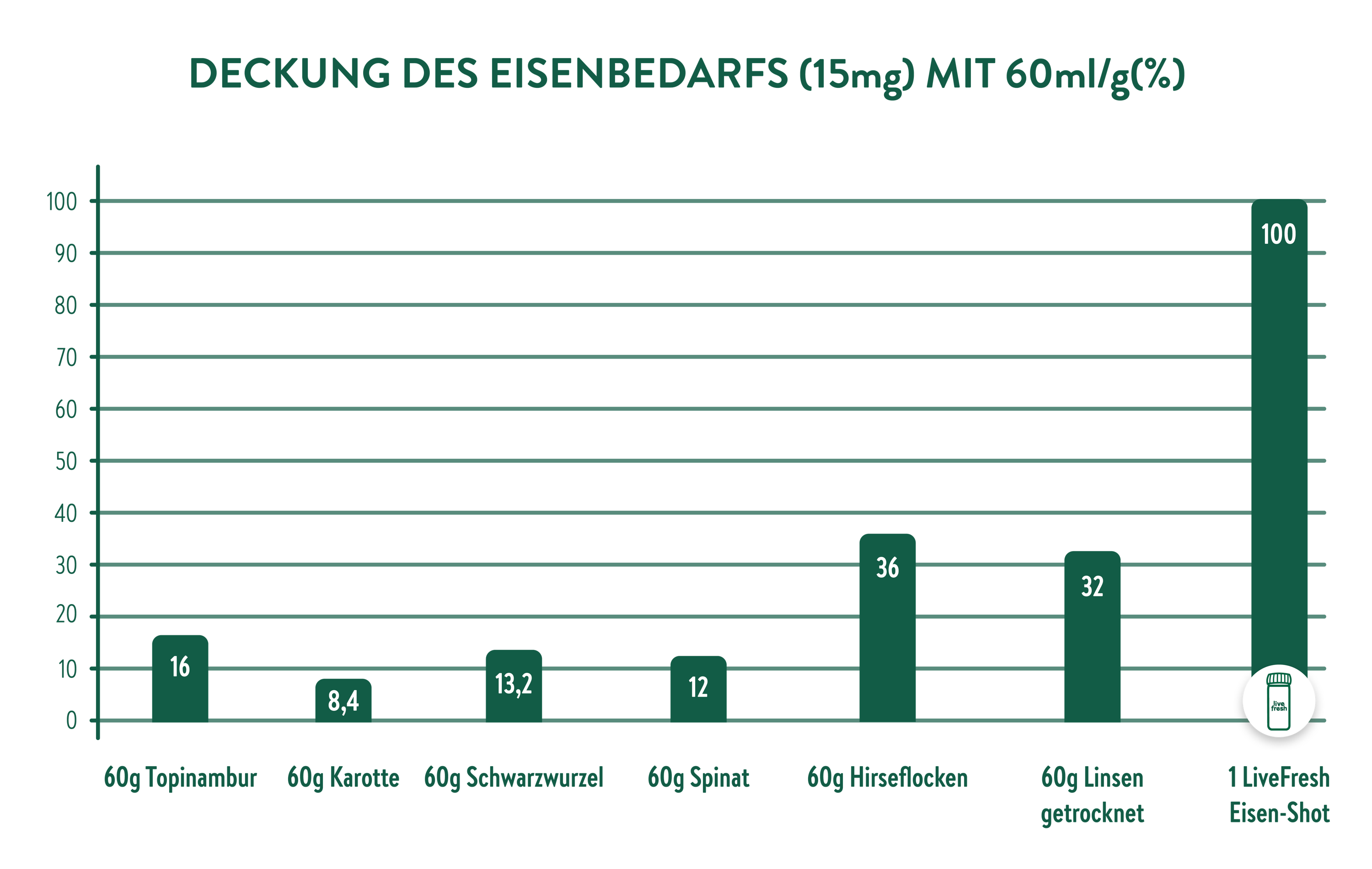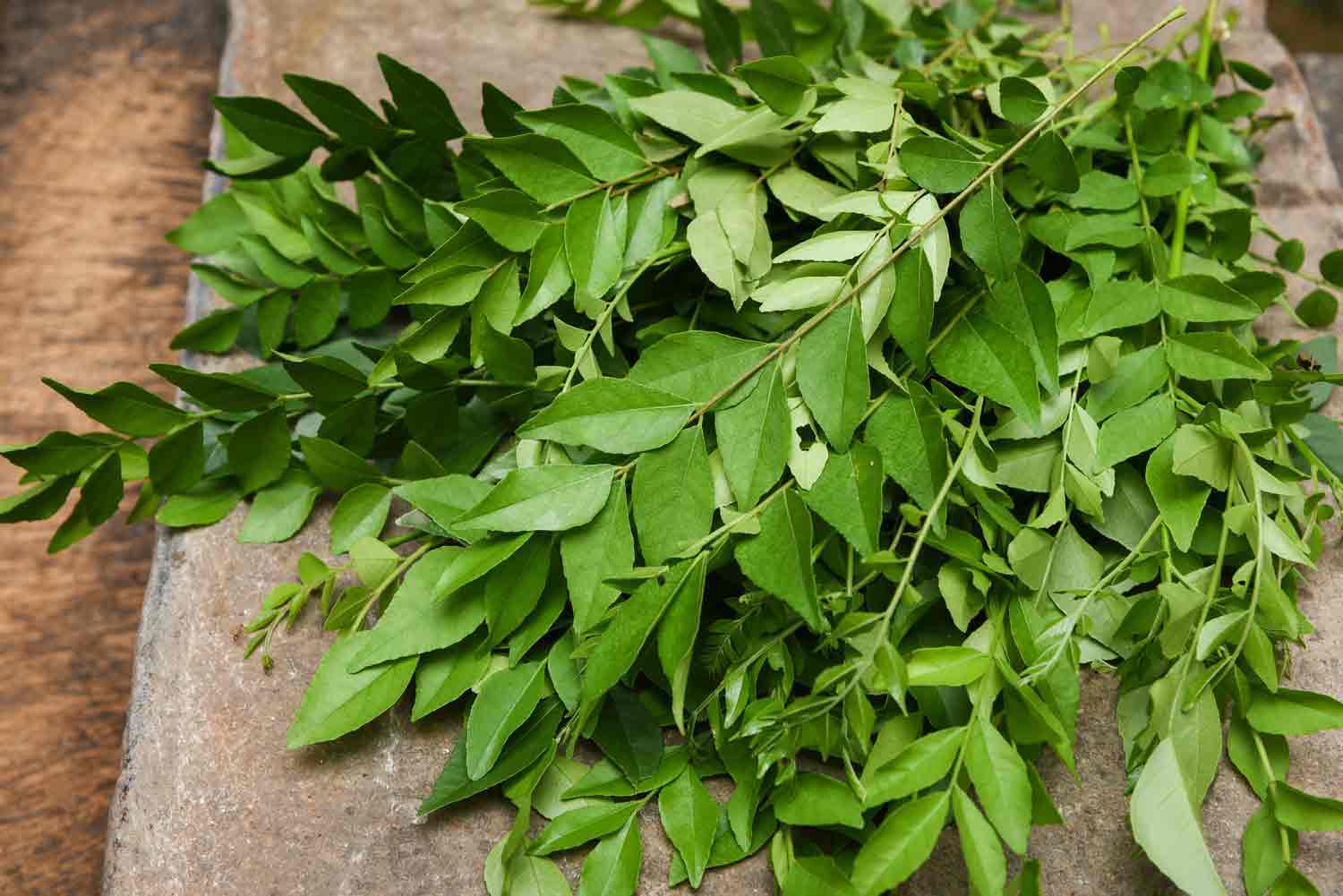 The problem: iron deficiency.
An iron deficiency can have various causes. On the one hand, if, for example, there is an increased need for iron. This is often the case with pregnant or breastfeeding women, but also with growing adolescents and in competitive sports. Especially when pregnant, the iron intake is very important. There is an increased need for iron after heavy blood loss, such as during operations and blood donations, or in women with heavy menstruation. Iron absorption through food can be insufficient in a vegetarian and vegan diet, as the selection and preparation of plant-based iron sources requires a great deal of knowledge so that the body can absorb sufficient iron. Plant-based iron sources usually contain slightly less iron than meat and are also often bound to secondary plant compounds, which can hinder good iron absorption. Furthermore, digestive disorders and intolerances as well as chronic illnesses can reduce the absorption of iron from the intestine. The simultaneous intake of vitamin C improves iron absorption in the intestine.
Why take it as a shot of LiveFresh?
We at LiveFresh have developed a functional iron shot in collaboration with our nutrition expert Dr. Ulrike Fischer, which is vegan and 100% natural. We want to give you the opportunity to secure your iron balance in a natural way. The iron in our shot is extracted from curry leaves. This herbal source of iron has a very good absorption capacity and contributes to the normal formation of red blood cells without causing unpleasant side effects. This means that the curry leaf iron contained in our iron shot is readily available to the body and at the same time easily tolerated by the gastrointestinal tract. The iron source from curry leaves is therefore extremely valuable. In addition, our new iron shot contains natural vitamin C from acerola, which additionally improves iron absorption.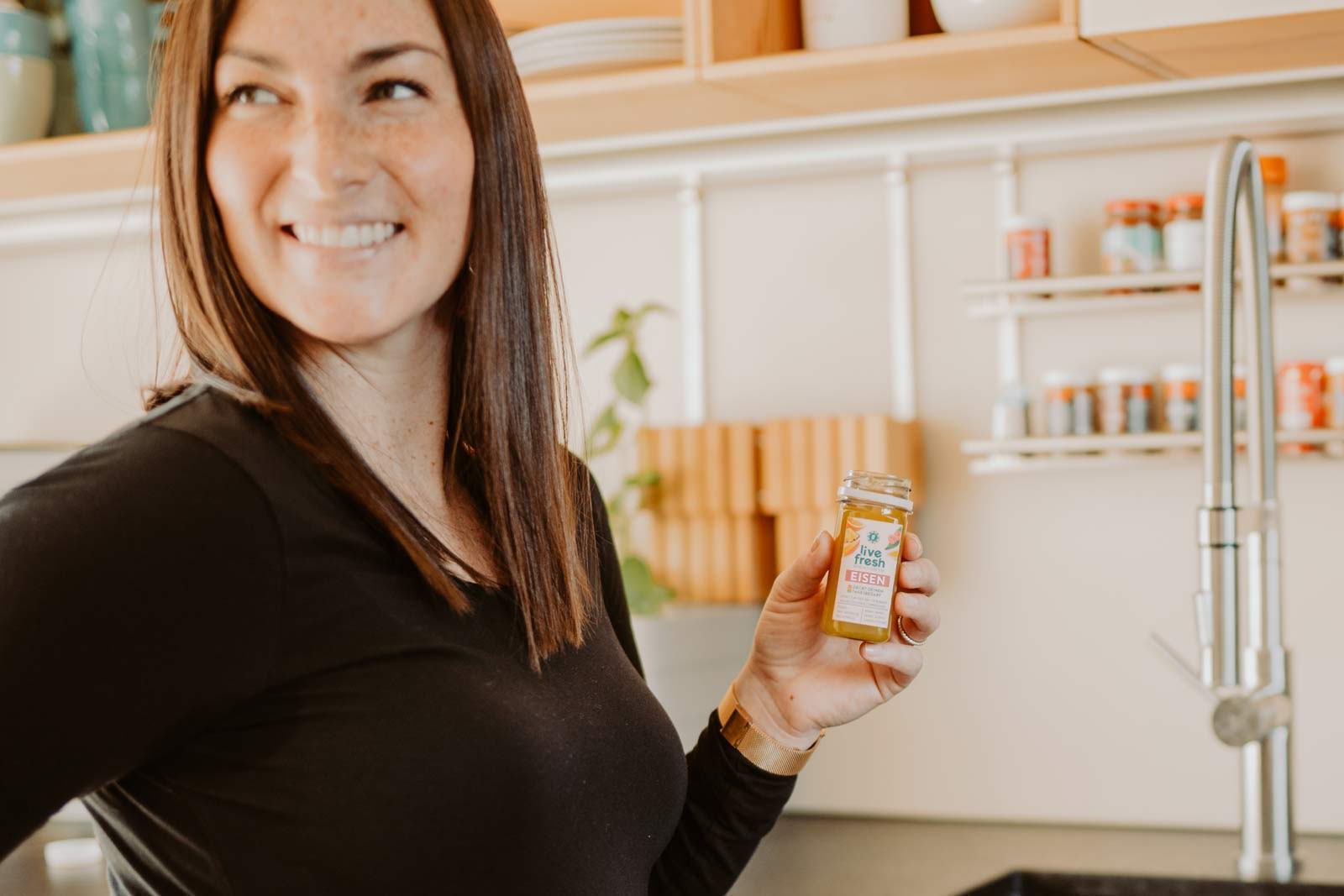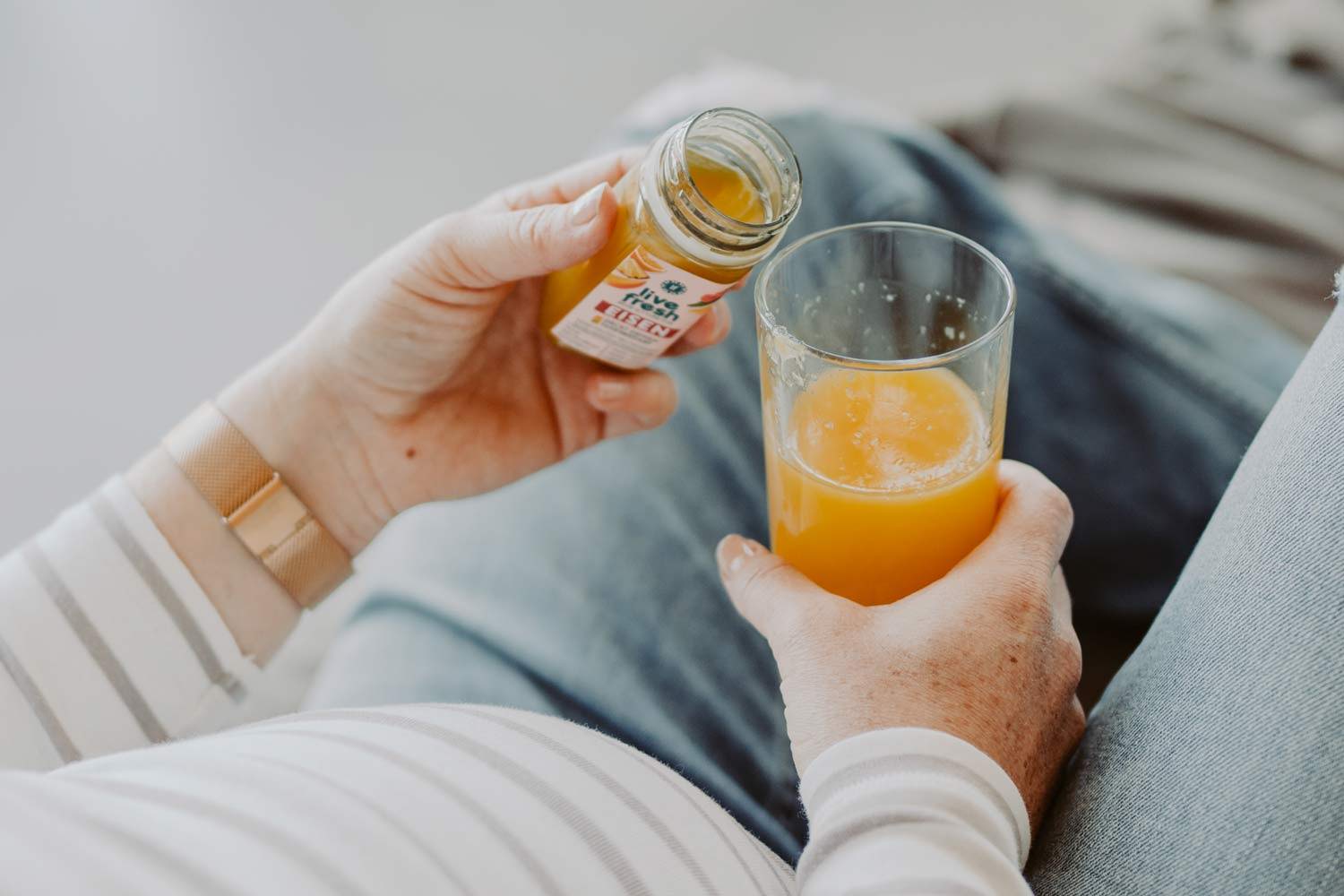 How should I take the shot?
You should drink the iron shot in the morning on an empty stomach and eat breakfast at the earliest 30-60 minutes later, so that the iron absorption from the intestine can take place optimally. Coffee, black tea, dairy and cereal products inhibit the utilization of iron. With only one shot in the morning you cover your daily iron requirement. In addition, our shot contains vitamin C from acerola, which improves iron absorption. Both the iron level in the blood and the symptoms of iron deficiency need some time to normalize. This means that in the case of an iron deficiency or an increased need, it is absolutely necessary to cover the iron requirement daily and over several months.
18mg vegan iron per shot.
What do we need iron for?
The trace element iron is involved in the formation of red blood cells and the transport of oxygen in the body. It is therefore found in almost every cell of the body and plays a central role in the energy metabolism of the body. Iron can therefore reduce tiredness and fatigue and also supports brain function and memory.tmemory. Since it positively influences many different bodily functions, it also has an effect on the function of the immune system.
Can too much iron be absorbed?
If the body has a lower demand for iron or the iron stores are sufficiently filled, the iron intake from food decreases automatically. The body builds up a natural barrier in the intestine when there is a sufficient supply of iron, so that in a healthy person an iron overload caused by too much iron from food not occur can occur. However, there are people with iron storage diseases who may well consume too much iron.
What options do we have to meet our needs?
Iron is a vital trace element and must be supplied through the diet. For a long time it was considered that animal iron can be absorbed better than pplant iron. However, more recent studies show that this is only the case when the iron is present in the plant compound with inhibitory substances, such as e.g. with phytates or oxalates. Accordingly recent research has shown that plant sources of iron, such as curry leaves, can be used to cover iron requirements. It could be proven that through a several months intake of iron with the help of curry leaf extract, the iron content the iron content in the red blood cells (Hb value) as as well as in the storage form (ferritin) could be increased could be increased. In addition, the side effects known from iron supplements occur, such as e.g. constipation or diarrhea, do not occur with the bioavailable iron from plant sources.
Should I have my iron levels checked?
The iron level does not necessarily have to be determined. During pregnancy, it is usually determined by the doctor. If you are at risk of iron deficiency and are concerned that you will not be able to meet your iron requirements from your diet in your diet, the Iron shot is well suited. With sufficient iron supply the body builds in the intestine builds up a barrierso that no more can be absorbed (unless it is the iron storage disease is present). However, if you have clear signs of anaemia or if you have other pre-existing conditions, you should consult your doctor in order to be able to initiate further accompanying therapy if necessary.
Our experts Ulrike & Tara are always there for you.
If you have any further questions, are unsure or need more information, you can contact us at any time.
+49 1792690636
Tara - LiveFresh expert in all things. No one knows our products like she does and has the knowledge to get you started on a healthier lifestyle. You can call her on weekdays between 9am-5pm.
hallo@livefresh.de
Ulrike is a PhD nutrition expert at LiveFresh and deals with the optimization of a healthy lifestyle on a daily basis. You can reach her at any time by email.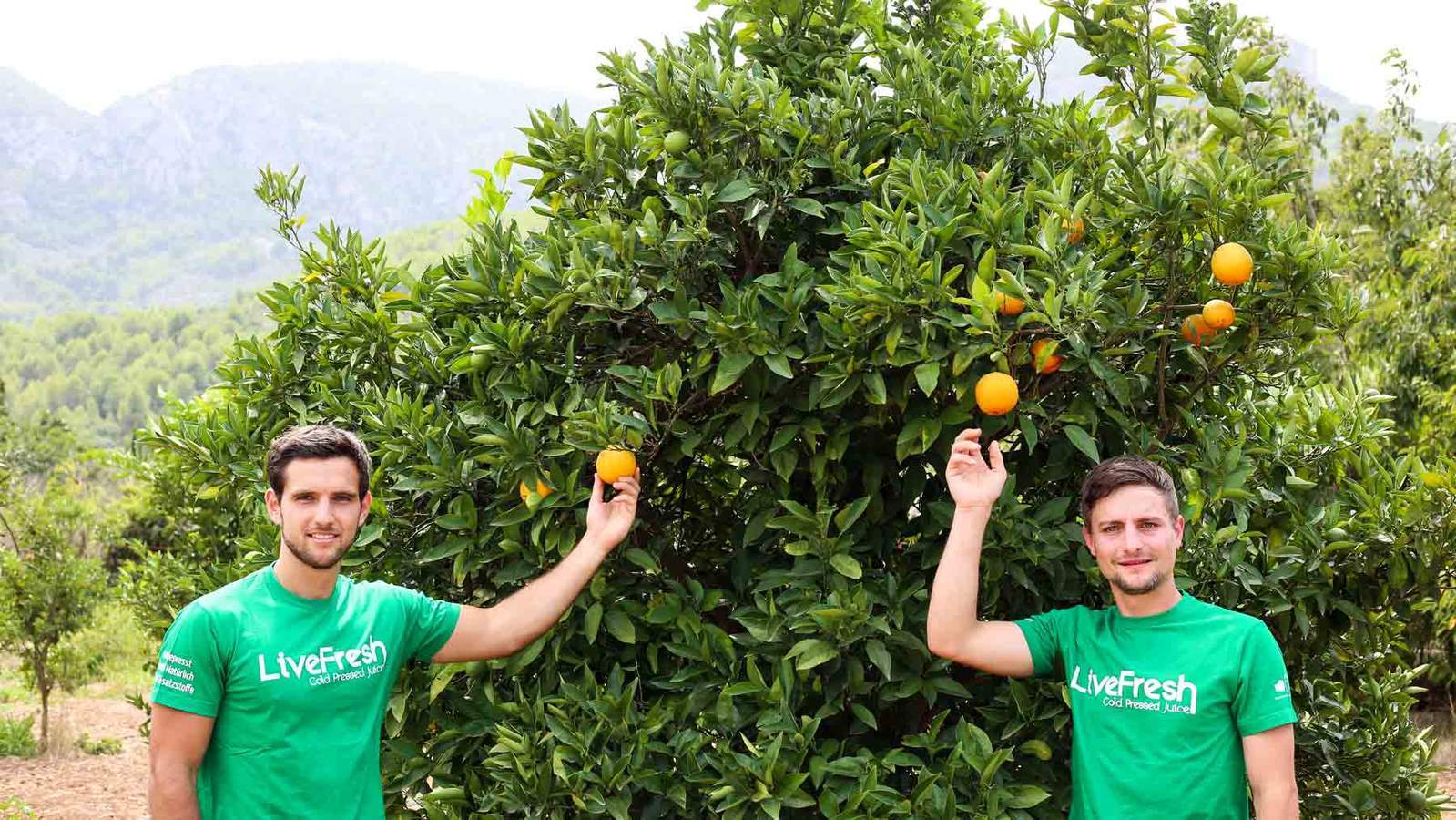 Juice manufacture in southern Germany
We have everything in our own hands.
We are Simon & Benedikt, the founders of LiveFresh. Born in a student flat-sharing community in 2016, we have built up an innovative juice factory within a short period of time, where we do everything we can every day to produce the best juice in the world from the highest quality raw materials.Since the founding of our juice shop, we have followed the philosophy of keeping the entire value chain in our own hands. From direct contact with the best fruit and vegetable farmers to the production of our fresh juices, we have built up a broad expertise in a short time.
That's what makes us so special.
The unique freshness and quality is obtained through the innovative high pressure process HPP. This means that our freshly pressed juice retains its full flavour and important vitamins without having to pasteurise the juice under heat. This allows us to offer you a truly fresh, cold-pressed juice in the juice box of the highest quality.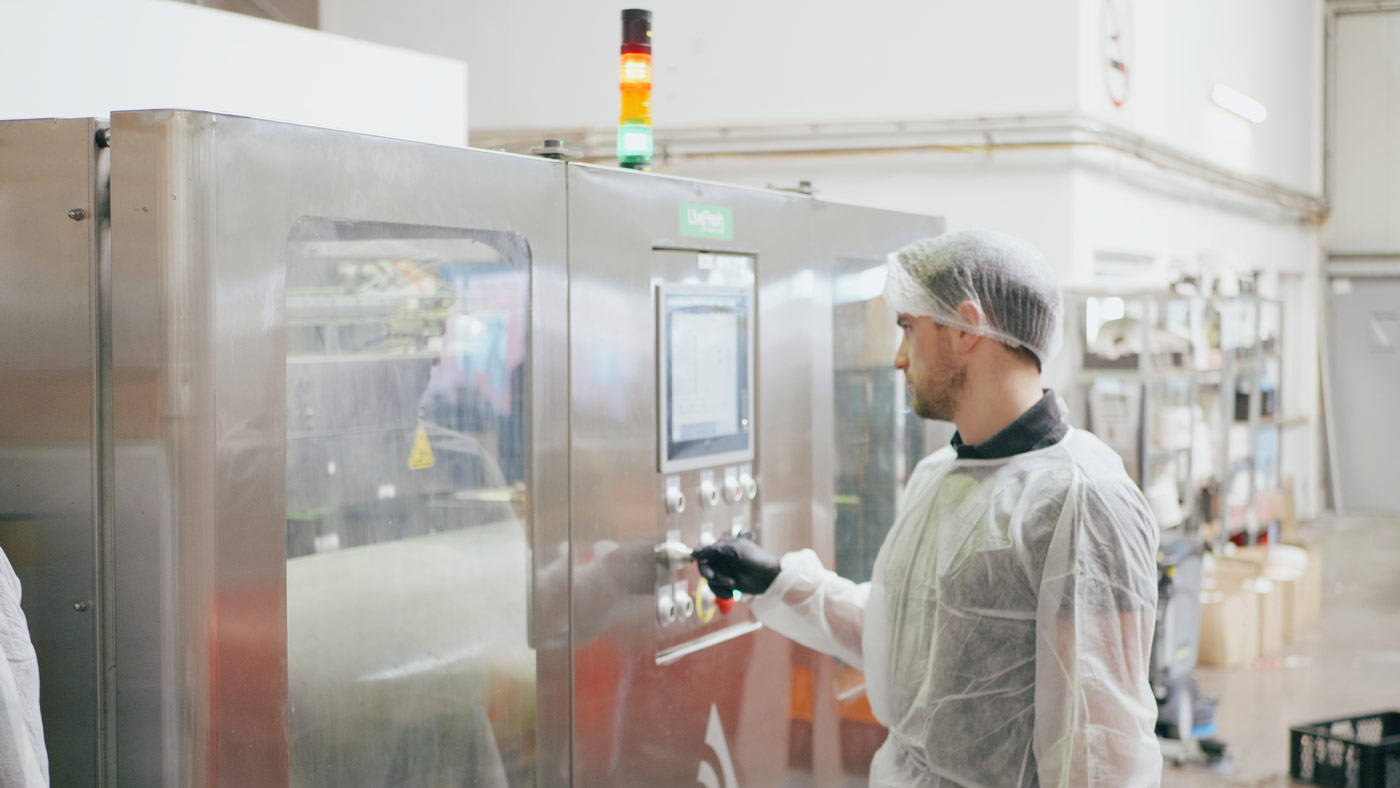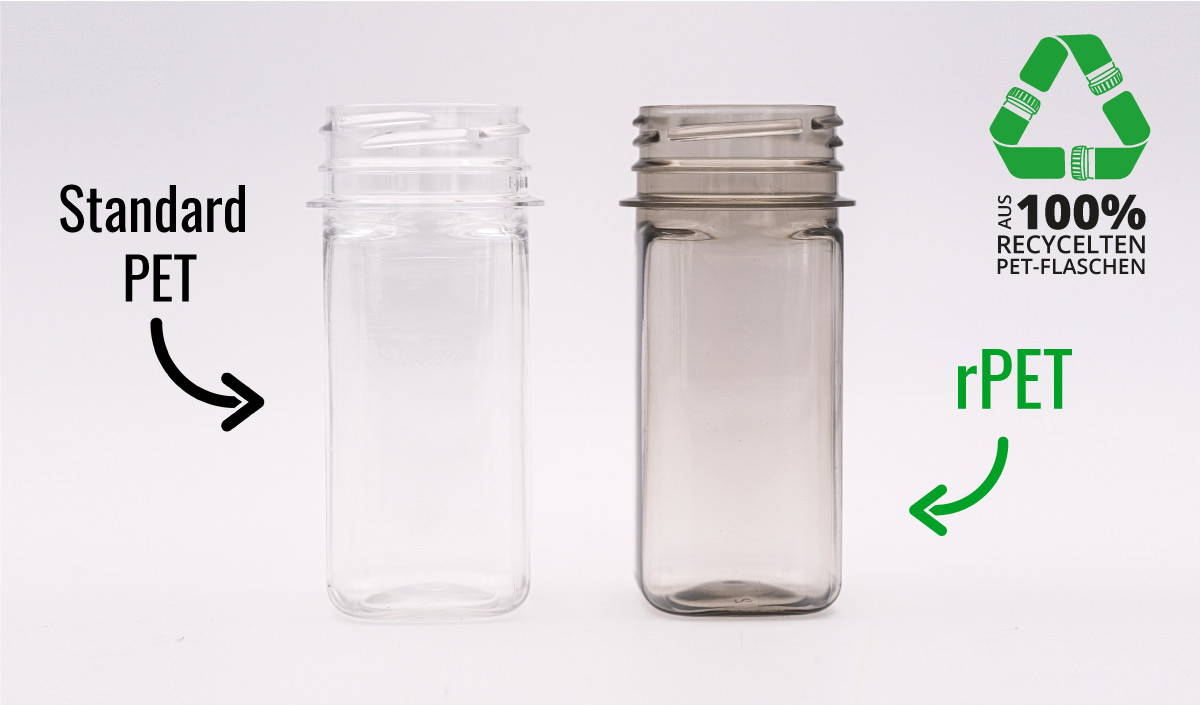 Packaging made from 100% rPET
Made from 100% old PET bottles.
Our new rPET bottles have already had a long life. They are made from recycled PET bottles, which helps reduce waste production. You can take care of them in the yellow bag without worrying. They find their way back to us as a new bottle. Our rPET bottles have a slightly greyish tinge due to the different materials that are recycled. Of course, this has no influence on the freshness & taste of our juices!