Never swallow a pill again.
No more terrible tinctures.
This way you can take your daily amount of micronutrients in a completely natural & vegan way.
Your little daily heroes for all important nutrients.

Our cold-pressed daily heroes always cover 100% of the daily requirement of the vitamin or micronutrient they contain. In the Cleanse you take 3 different shots a day, which ensure your daily requirement of iron, vitamin D & omega 3 in a natural way.
This way you can take in the most important nutrients every day: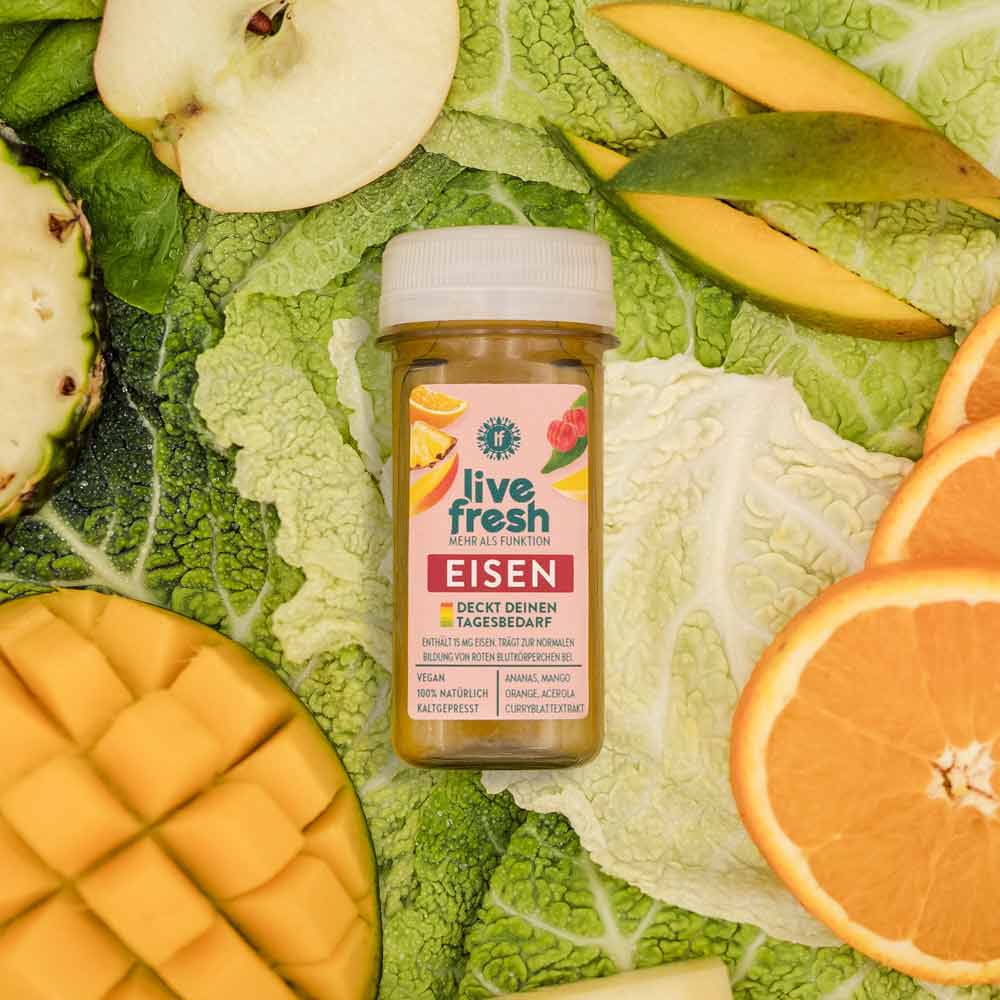 Covers 100% of your daily iron requirement.
Den Iron shot should be DYou should drink it in the morning on an empty stomach and take it early in the morning.eeat breakfast at least 30-60 minutes later so that the absorption of iron from the intestine can take place optimally. We use natural iron from the curry plant for the iron shot.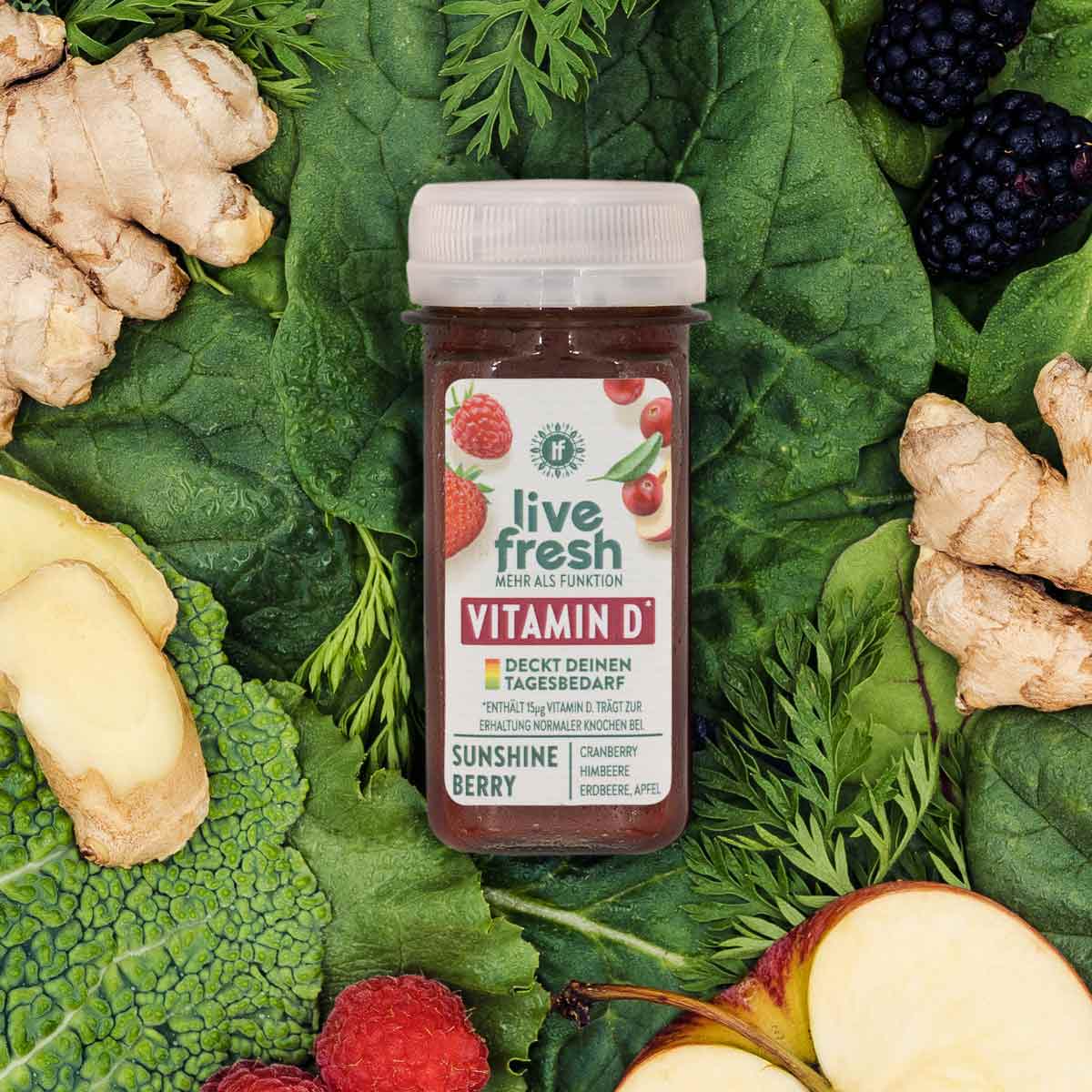 Lunchtime: Vitamin D Shot - Sunshine Berry
Covers 100% of your daily vitamin D requirement.
This way you can enjoy the delicious, sweet and berry shot with a slight spiciness and at the same time supply yourself with the vital vitamin D. We use natural vitamin D from dried mushrooms for the Sunshine Berry.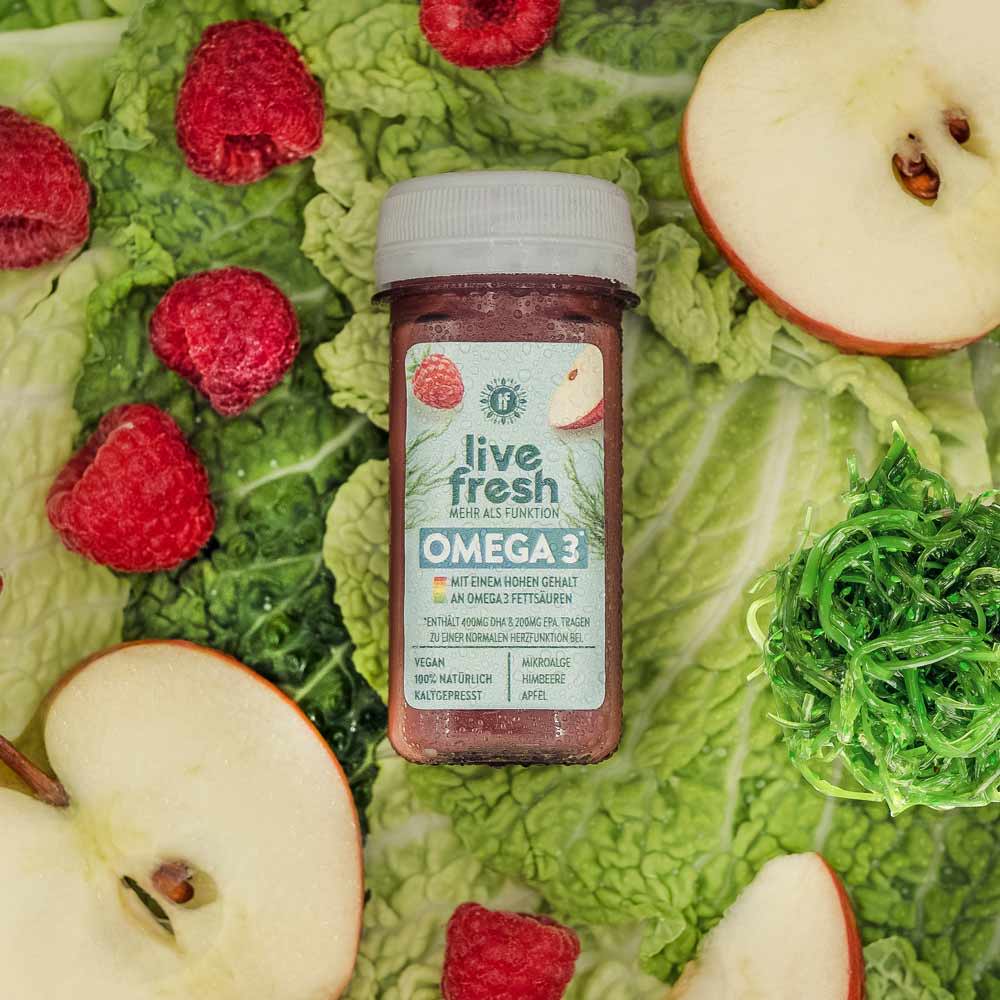 Satisfies your need for omega-3 fatty acids
A combination of fresh cold-pressed fruits and omega 3 makes this shot a novel source of omega 3 fatty acids. Highly dosed with 240mg EPA & 120mg DHA. This ratio is much lower in conventional products.
The nutrient deficiency - Cleanse

Cover all your daily needs for 2 or 4 weeks.
Cover 100% of your daily requirement of iron, omega-3 and vitamin D in a completely natural and delicious way over a longer period of time. Therefore, Cleanse is a simple, delicious and completely vegan and natural alternative to ensure your daily requirement of the three essential micronutrients.
✔ 3 shots per day.
✔ Suitable as a permanent food supplement
Vegan & 100% Natural.
Functional shots against nutrient deficiencies.
One of the biggest problems in our society is still the insufficient intake of essential micronutrients such as vitamin D, iron, omega-3 or vitamin C. With our daily heroes, you have the opportunity to take in the most important vitamins and nutrients that your body needs in a delicious and natural way. A really tasty and healthy alternative to all other food supplements such as capsules, tinctures or tablets.
Covers your daily needs.
✔ Cold pressed & never heated.
Vegan & 100% Natural.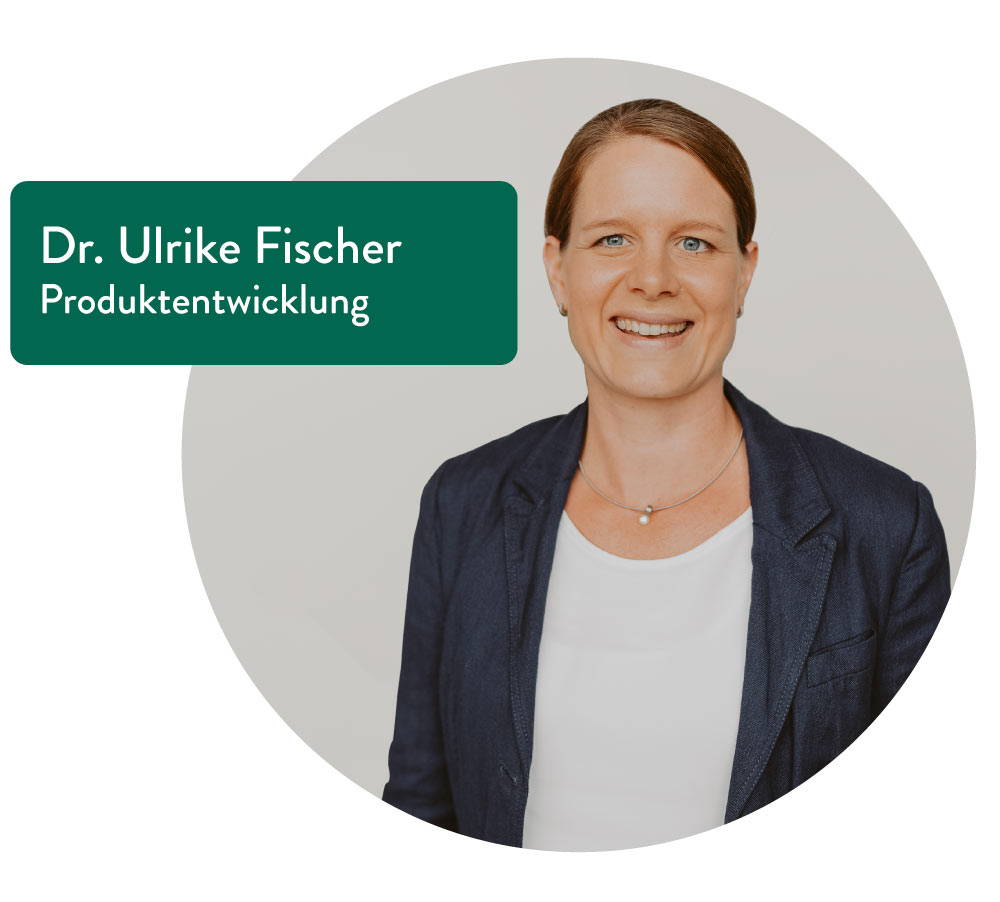 Our expert Dr Ulrike Fischer on our heroes of the day:
"They are simply the first 100% natural alternatives to the many supplements and drinks currently on the market. It's never been easier to get your daily iron, vitamin D & omega 3 requirements naturally."
Why you should incorporate this Cleanse into your daily routine:
✔ Practical dosage: 1 Shot of each micronutrient daily
✔ 100% natural ingredients and vegan
✔ Holistic effect to strengthen a healthy nutrient balance
✔ Regionally produced in our own juice factory on Lake Constance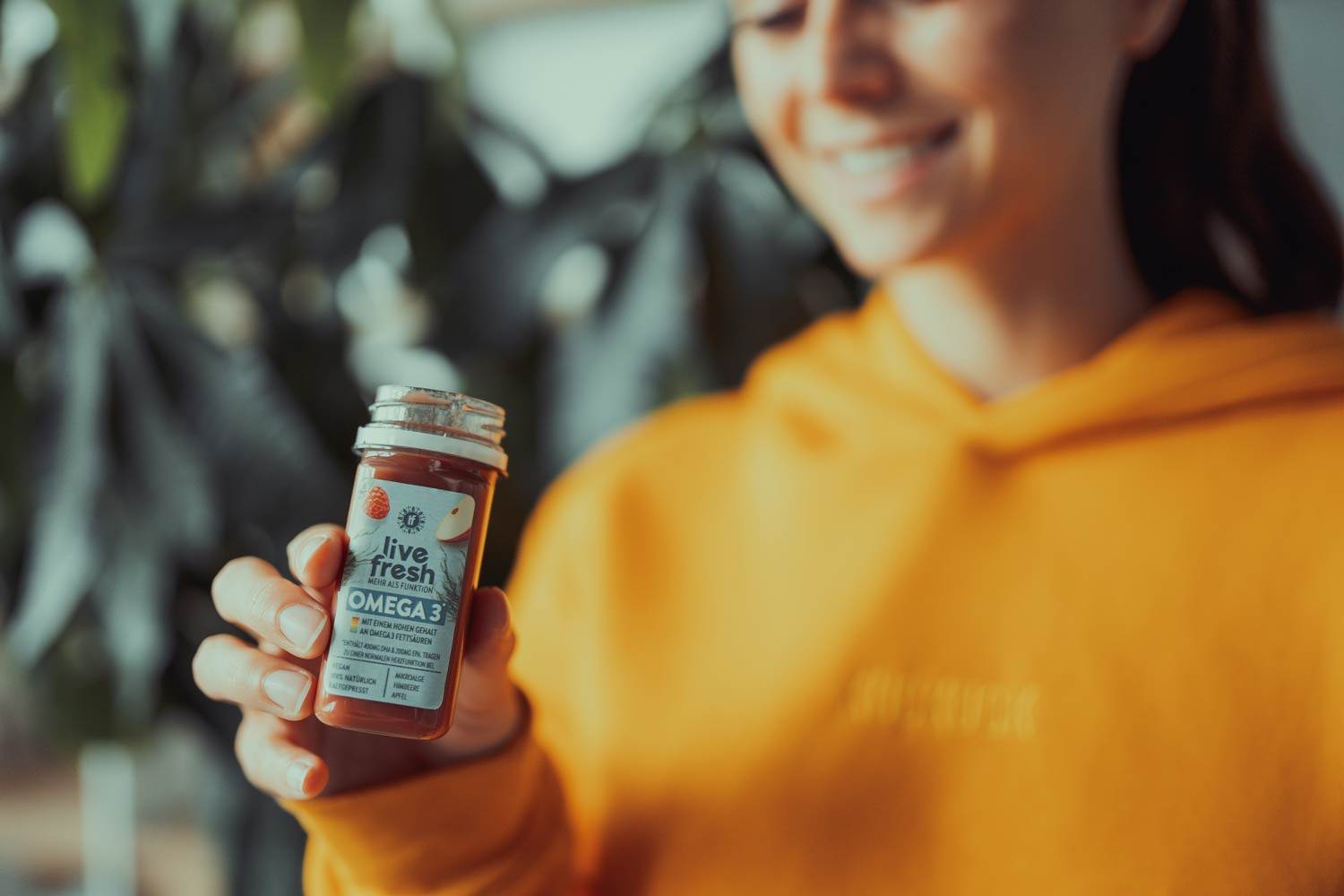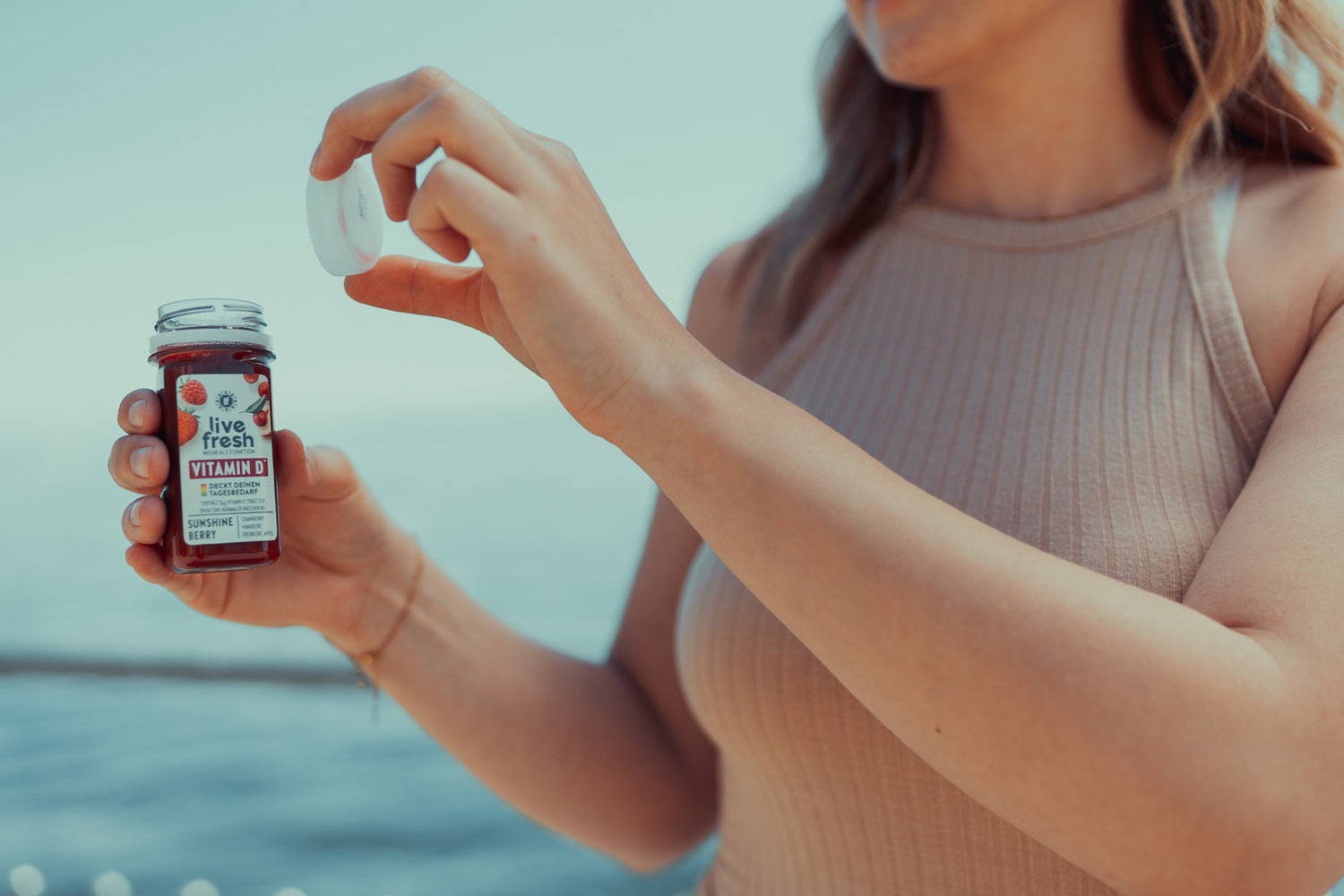 The Cleanse against your nutrient deficiency.
In Cleanse we combine the essential micronutrients iron, vitamin D and omega 3 to help you strengthen your healthy nutrient balance and support the body with a holistic effect for the immune system, energy metabolism, vision, heart and brain function.*. We need to get iron, vitamin D and omega 3 from our diet every day. For most of us, however, it is difficult to cover our daily requirements from our diet alone.
Vitamins, minerals, trace elements, but also essential fat and amino acids belong to the micronutrients. Compared to proteins, fats and carbohydrates, they are needed in much smaller quantities. Since our bodies cannot produce these vital micronutrients themselves, we have to take them in through food.
How many have a nutrient deficiency?
In the national consumption study of the Max-Rubner-Institute, the eating habits of 20,000 citizens in Germany were examined. It was shown that there is a very large gap between a healthy, nutrient-rich diet in theory and actual dietary behaviour. Many of the study participants did not reach the minimum intake levels required by the German Nutrition Society (DGE) for the prevention of diseases in healthy people. It must be taken into account, however, that risk groups, for example due to illness, medication, stress, metabolic disorders or smokers, have an increased requirement that has not yet been taken into account in this list and by the DGE. Thus, even higher numbers in the undersupply can be assumed.
Reasons for micronutrient deficiency?
Food quality

The soils contain fewer nutrients due to incorrect or over cultivation and thus fewer of the vital substances get into our plant foods, but also into animal feed and thus into our animal foods.
Animals are usually no longer kept and fed in a species-appropriate way. For example, the cows hardly get any pasture and instead get concentrated feed, mostly soy-based.

Modern diet with too much sugar and white flour and instead too little nutrient density
Lifestyle with "nutrient robbers" such as alcohol, cigarettes, chronic stress, medication, drugs, too little exercise or even too much excessive sport
Increased need due to pregnancy, breastfeeding, diseases
Why are micronutrients so important?
Vitamins, minerals, essential amino acids and omega-3 fatty acids perform a function at many switching points in the body and thus ensure that our metabolism runs smoothly. There is almost no metabolic step in our body in which at least one micronutrient is not involved, for example in enzyme and hormone activation, immune defence, energy metabolism, heart muscle performance, muscle strength and coordination or in nerve and brain metabolism.
Where can micronutrients be found?
The valuable micronutrients are contained in our food and are channelled into our bodies via the macronutrients, fats, carbohydrates and protein. They are mainly found in real, unprocessed foods such as fruit, vegetables, nuts, meat and fish. With very few exceptions, the body cannot produce micronutrients itself - regular intake is therefore particularly important.
What are the consequences of micronutrient deficiency?
If our body is not sufficiently supplied with micronutrients, metabolic disorders can occur. Based on complex metabolic disorders, various civilisation diseases can develop over the years. At the beginning of an insufficient supply, no clinical symptoms appear, but some functions, such as those of the immune system, do not function optimally. If the deficiency lasts a little longer, non-specific symptoms such as fatigue or low stress resistance develop at first. Only much later do specific symptoms of diseases appear (for example anaemia).
How do I recognise a micronutrient deficiency?
An undersupply throws our nutrient balance out of balance and often sends visible or tangible signals to which one should react. Depending on which nutrients are lacking, various symptoms can occur, some of which, however, cannot be specifically attributed to a nutrient. Hair loss, brittle nails, restlessness, susceptibility to infections, fatigue, lack of concentration or cracked lips are common.
How long should I take in additional micronutrients?
Not an easy question, but the rule of thumb is: as much as necessary and, if in doubt, permanently. It takes a little patience before the first results appear - especially in the case of an existing deficiency. This depends in particular on the risk group, lifestyle and diet (see above). If a sustainable change has been implemented in the latter two for a higher intake of micronutrients from food and the reduction of "nutrient predators" (including alcohol, cigarettes, stress, medication), a blood analysis can provide information about the current status after a few months of nutrient supplementation.
Our expert Tara is always there for you.
If you have any further questions, are unsure or need more information, you can contact us at any time.
+49 1792690636
Tara - LiveFresh expert in all things. No one knows our products like she does and has the knowledge on how to start a healthier lifestyle. You can call her on weekdays between 9am-5pm.
Found your favourite? Order individually: