Get started on a healthy & conscious lifestyle with a Juice Cleanse .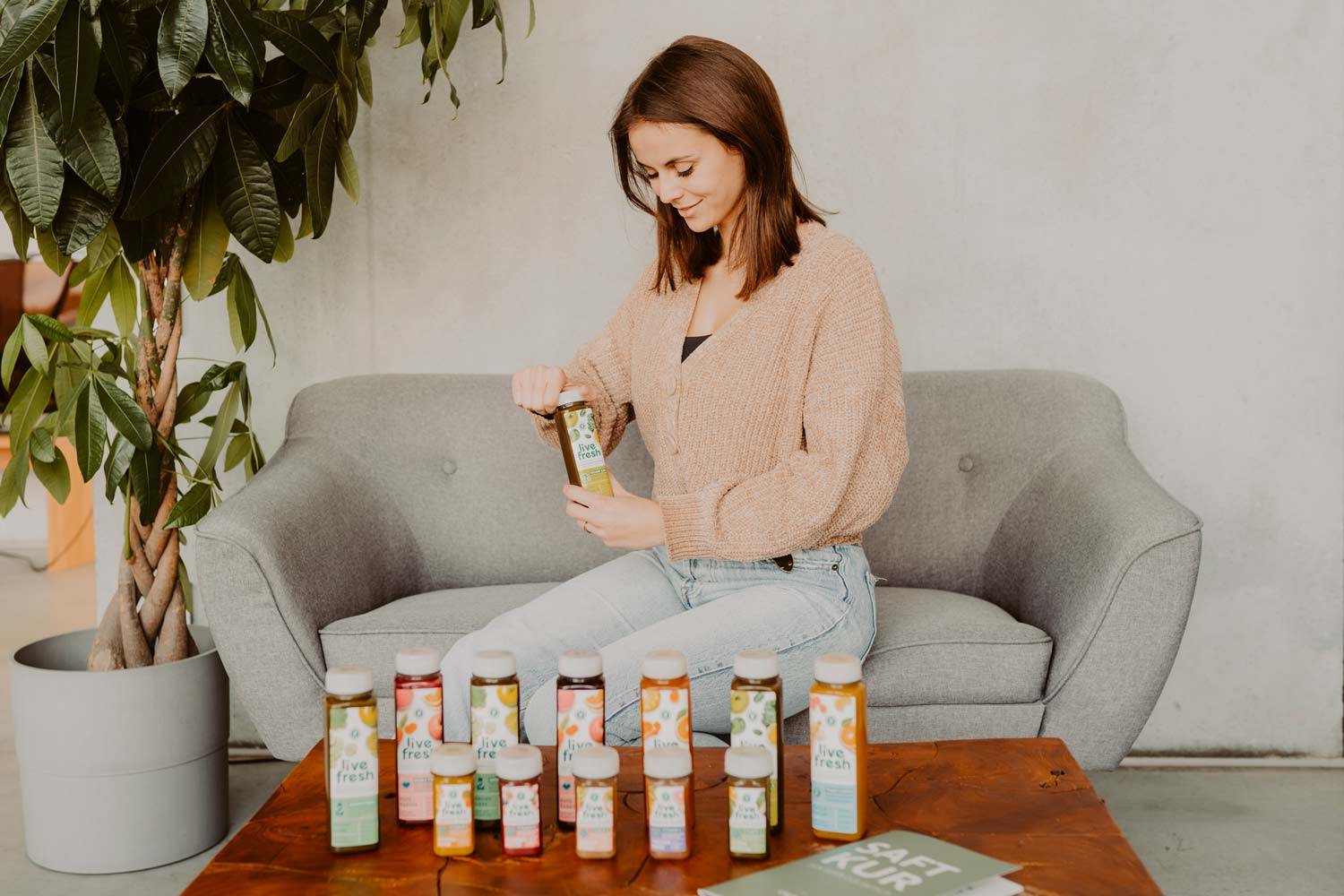 6 Gründe, warum Du jetzt mit einer Saftkur starten solltest:
Break bad eating habits
✔ Resect your body
✔ Get to know your feeling of hunger & satiety
✔ Challenge yourself
Relieve your body and intestines
✔ Nutze die Chance in eine langfristige Ernährungsumstellung
Shelf life: All juices can be stored for at least 4 weeks after arrival. So you can choose your start date freely!
7 juices & 3 shots per day I 7 days
7 juices & 3 shots per day I 5 days
7 juices & 3 shots per day I 3 days
Here's what your daily routine looks like during Juice Cleanse .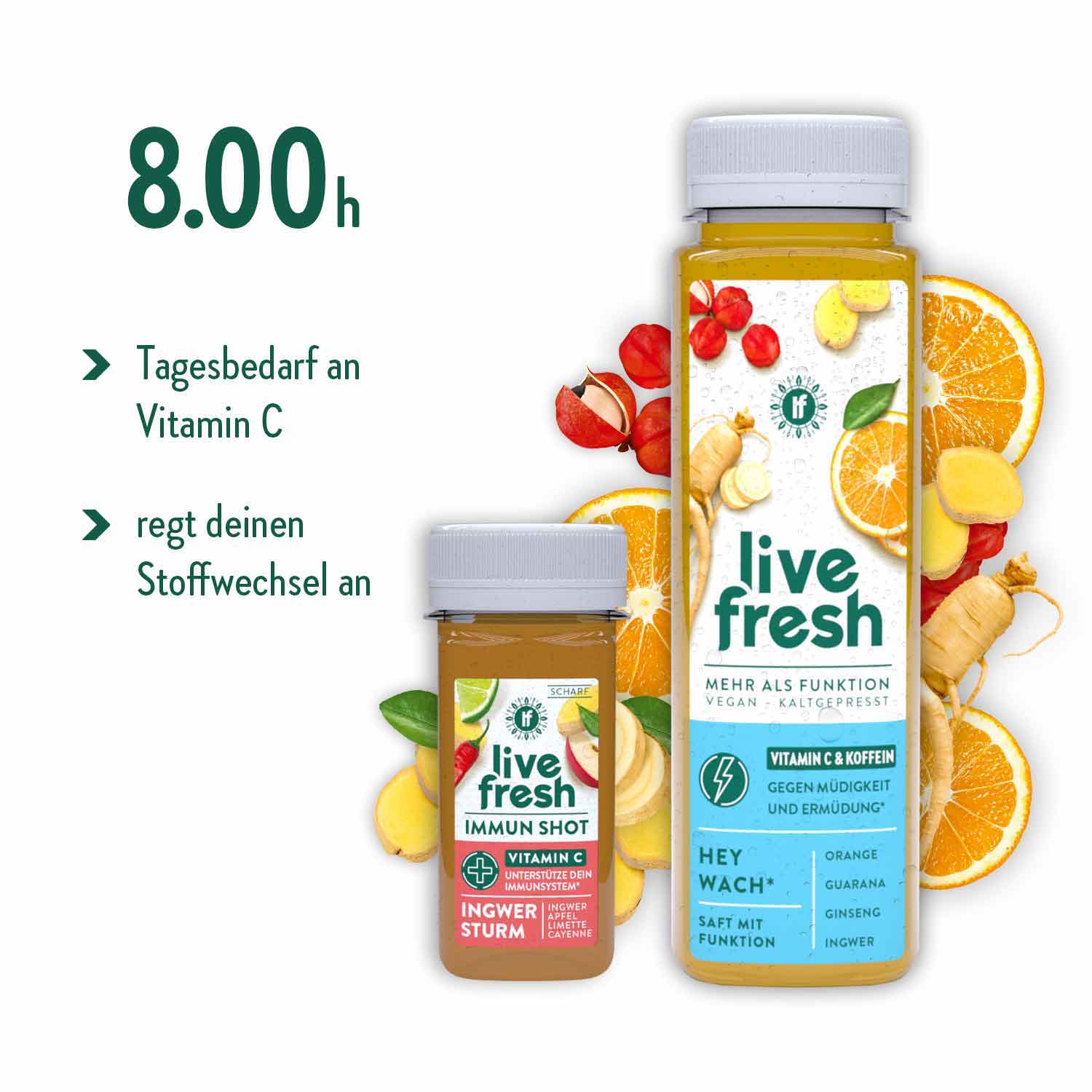 Hey Wach for the perfect start to the day. Wake up with vitamin C and guarana, the natural stimulant.
Ginger Boost as support. For all morning grouches, our Ginger Shot Ginger Storm is additionally the booster for energy in the morning.
Contains high levels of vitamin C and natural caffeine from the guarana fruit.
10:00am: Your Superfruit Brunch
Red grenade for in between.
Second breakfast with Superfood Red Pomegranate, our premium pomegranate juice. 100% natural pomegranate contains many antioxidants and tastes simply special, the natural sweetness helps you to more energy.
An energy supplier that packs a punch.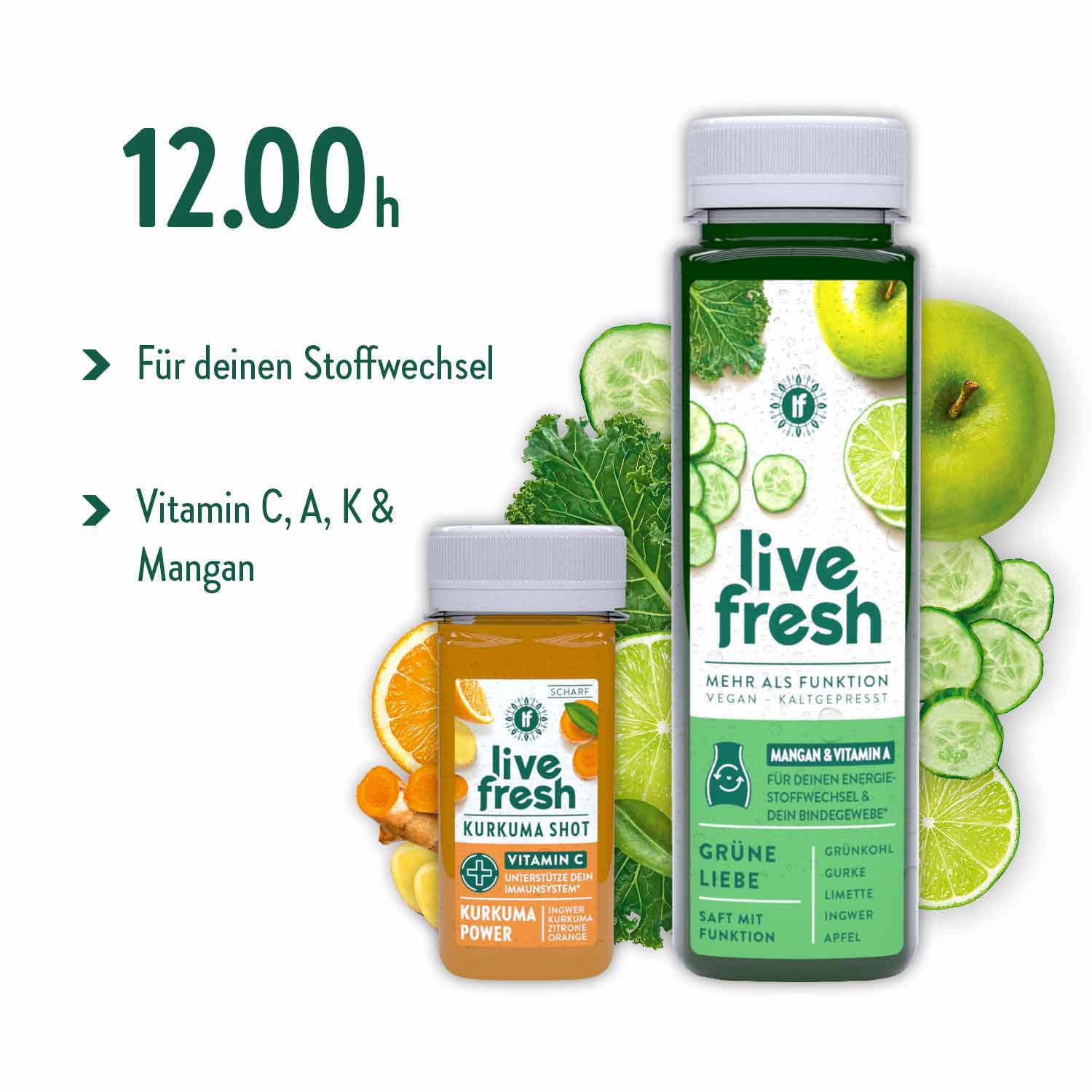 12:00 Green Lunch with Turmeric Boost

Green love as a healthy meal replacement at lunch.
Use the power of the local superfood kale in combination with spinach & cucumber. Your optimal lunch as a substitute for your lunch.
Turmeric Shot as a healthy desert.
Our Ginger Shot Turmeric Power will help you over the midday slump.
Contains vitamin A, vitamin K, vitamin C & manganese.
14:00 Red booster for the afternoon

The Red Rocket gives you energy for the afternoon!
Beetroot helps you through the day as a local superfood and gives you extra energy. The light, natural sweetness gives you an extra kick.
Contains vitamin C, vitamin A & potassium.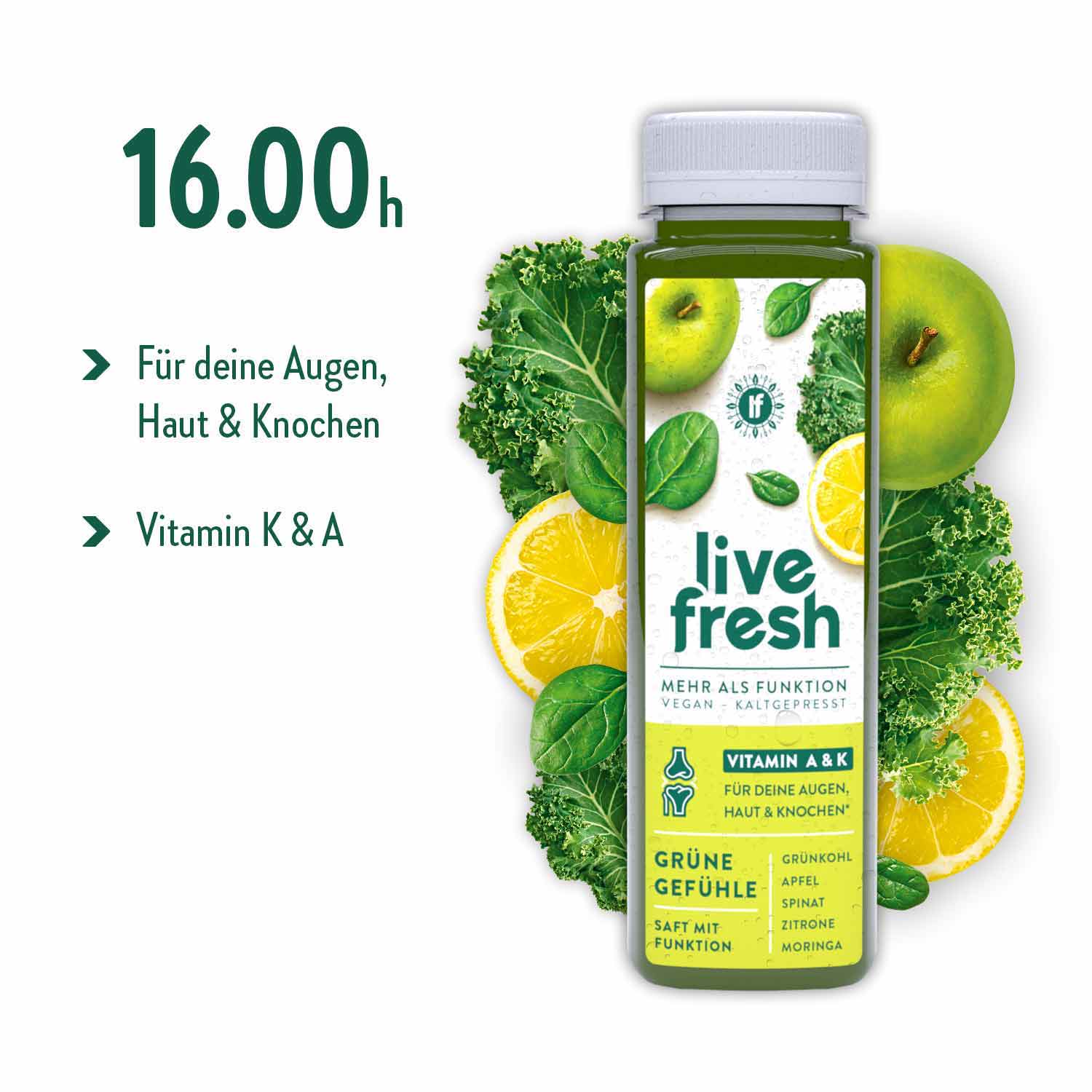 16:00 Green feelings in the after work mood

Awaken your green feelings within you.
No chance of an afternoon slump: our gentle green juice Green Feelings helps you get going with fruit-based kale and spinach.
Contains vitamin A & vitamin K.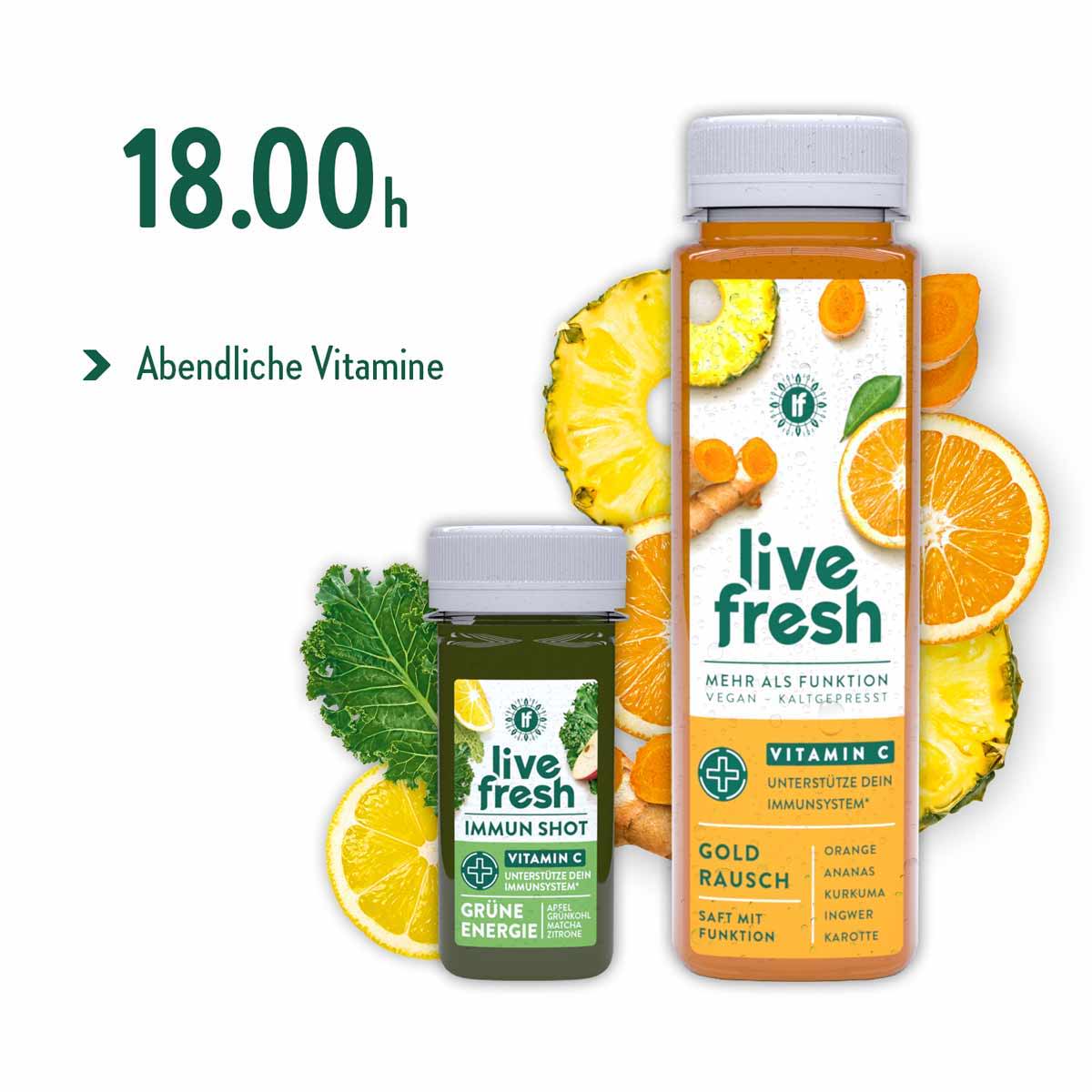 18:00 Your golden evening drink

Gold Rausch, your multivitamin kick for the evening.
For the evening we have something very special: Our exotic multi-juice Goldrausch supplies you with vitamin C & vitamin A.
Green energy as a vegetable additive.
Our Shot Green Energy provides a balancing green vegetable & slightly sweet note for a healthy boost in the evening.
Contains vitamin C, vitamin A & potassium.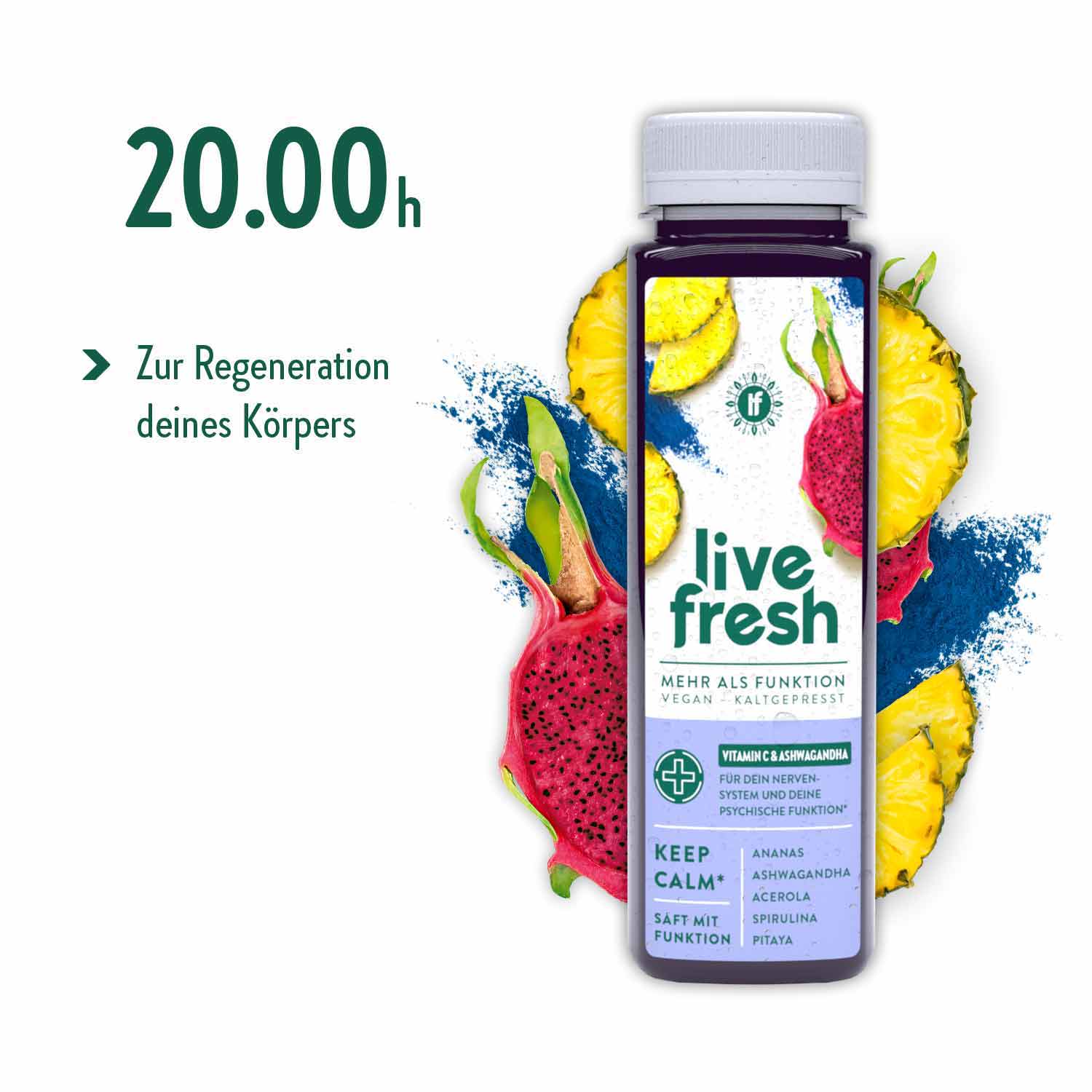 20:00 Your healthy slumber drink

Keep Calm for your nightly regeneration.
A smooth tropical juice to prepare you and your body for the next day. Alternatively or additionally, we also recommend
a vegetable or chicken broth to keep your electrolyte balance balanced.
Contains Vitamin C & Ashwaghanda.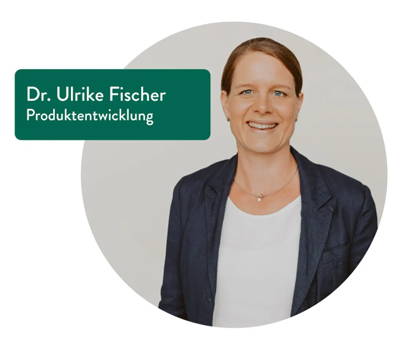 Für Deinen Körper entwickelt.
Durch unsere Ernährungswissenschaftlerin Dr. Ulrike Fischer ist die Zusammensetzung der Kur perfekt auf den Reset Deines Körpers abgestimmt.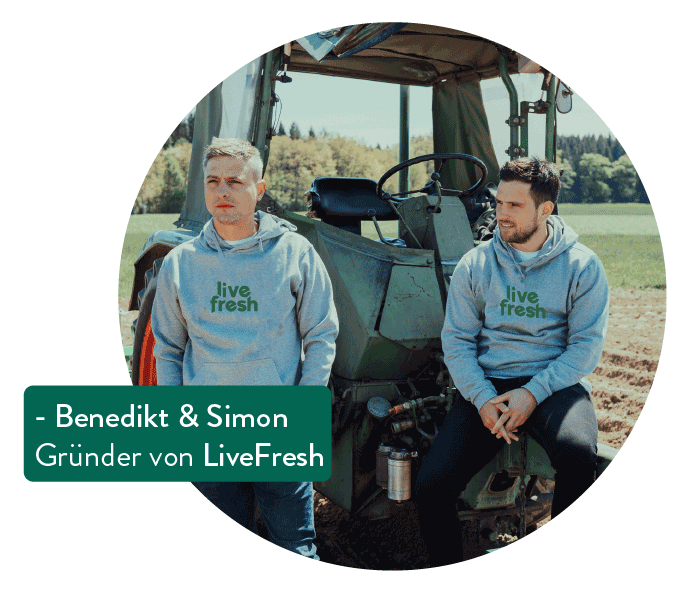 Täglich frisch aus unserer eigenen Saftmanufaktur.
Als junges Team haben wir von den Rohstoffen bis zur Produktion unserer frischen Säfte alles in der eigenen Hand und bieten Dir dadurch eine unvergleichbare Qualität.
Why many love our Cleanse :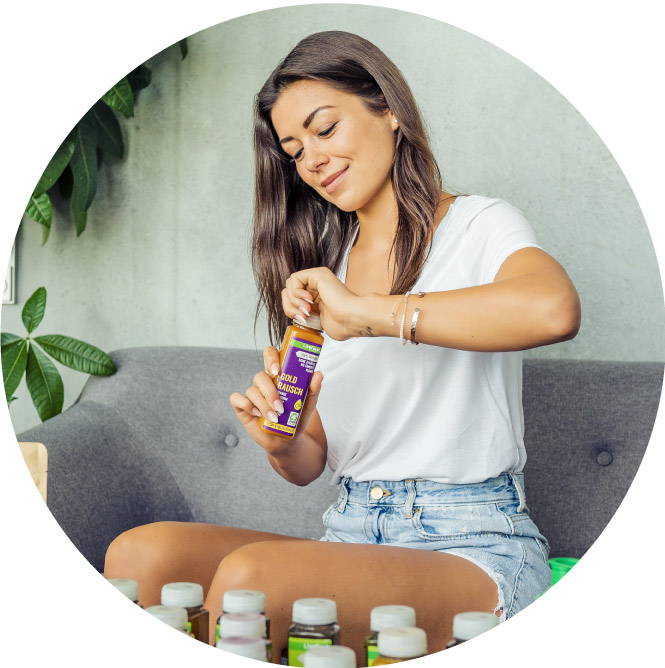 "I approached the Juice Cleanse with no expectations and learned a lot about myself and my body and also about my hunger pangs and controlling myself. I don't just eat away anymore."
"A Juice Cleanse is no walk in the park, of course, and I've often wanted to just quit. But the feeling after a Cleanse is just indescribable. I think everyone should experience it."
"The Juice Cleanse is a good place to start to manage a permanent change in diet and to learn about your hunger pangs. You learn the distinction between hunger and desire."
Während der Kur ernährst Du dich mit einem deutlichen Kaloriendefizit, was auch kurzfristig zu einer Gewichtsabnahme führen wird. Das ist aber erst der Startschuss in deine langfristige Ernährungsweise!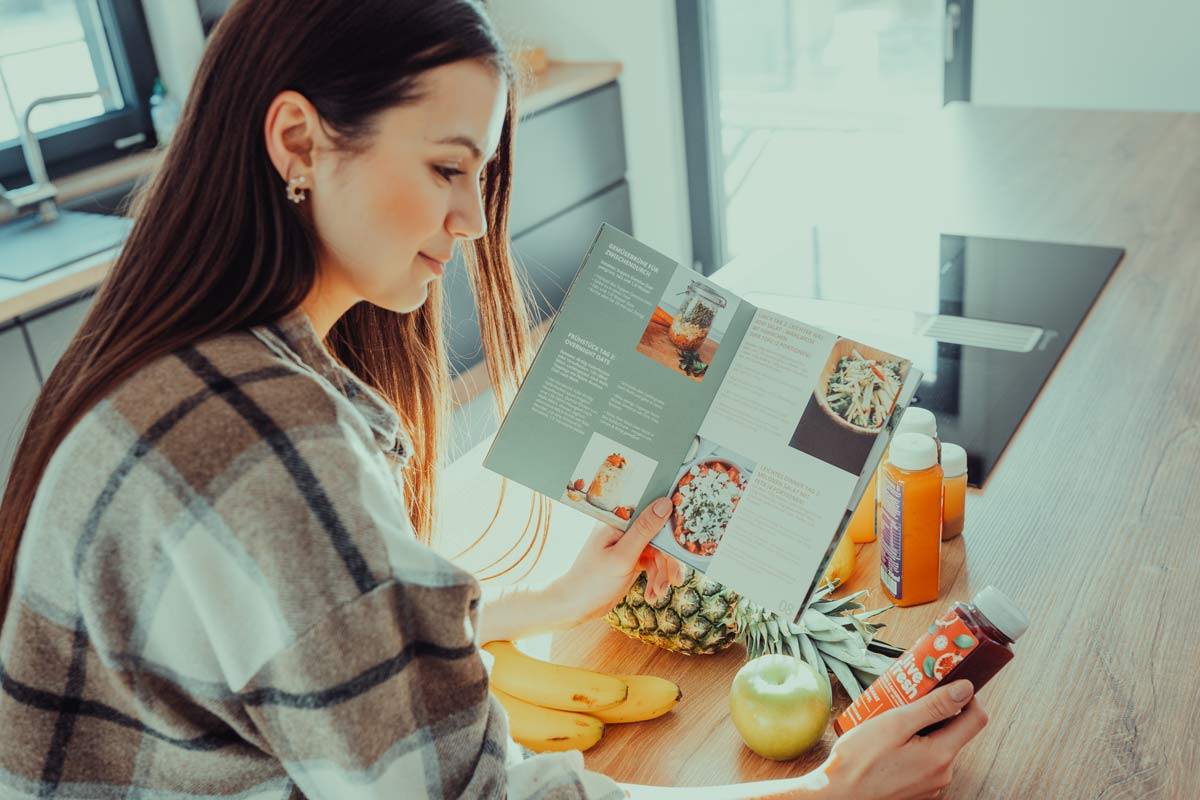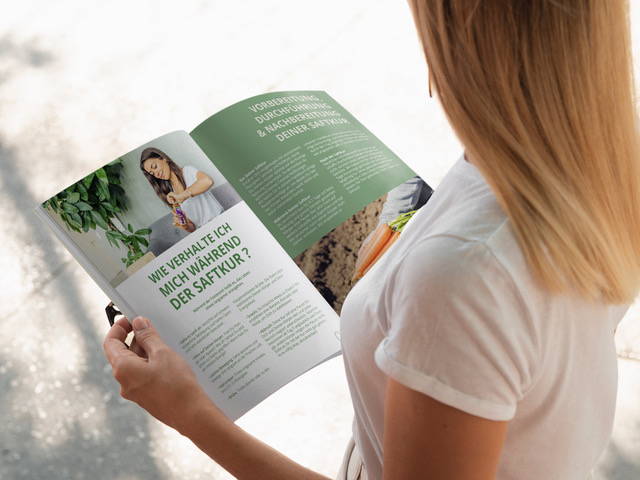 30-seitiger Guide zur Kur.
Darin findest du auf alle deine Fragen eine Antwort. Das Booklet begleitet dich während deiner Reise zu deinem Neuanfang. Über 10 leckere Rezeptideen bereiten Dich auf deine Saftkur vor und bieten Dir danach einen gesunden Ausklang.
30.000 zufriedene Teilnehmer.
Hinter LiveFresh steht kein großer Konzern. Wir sind eine Saftmanufaktur vom Bodensee und pressen alle unsere Säfte kalt und frisch. Da wir den gesamten Produktionsprozess in der Hand halten, können wir günstigere Preise & bessere Qualität erzielen als vergleichbare Hersteller.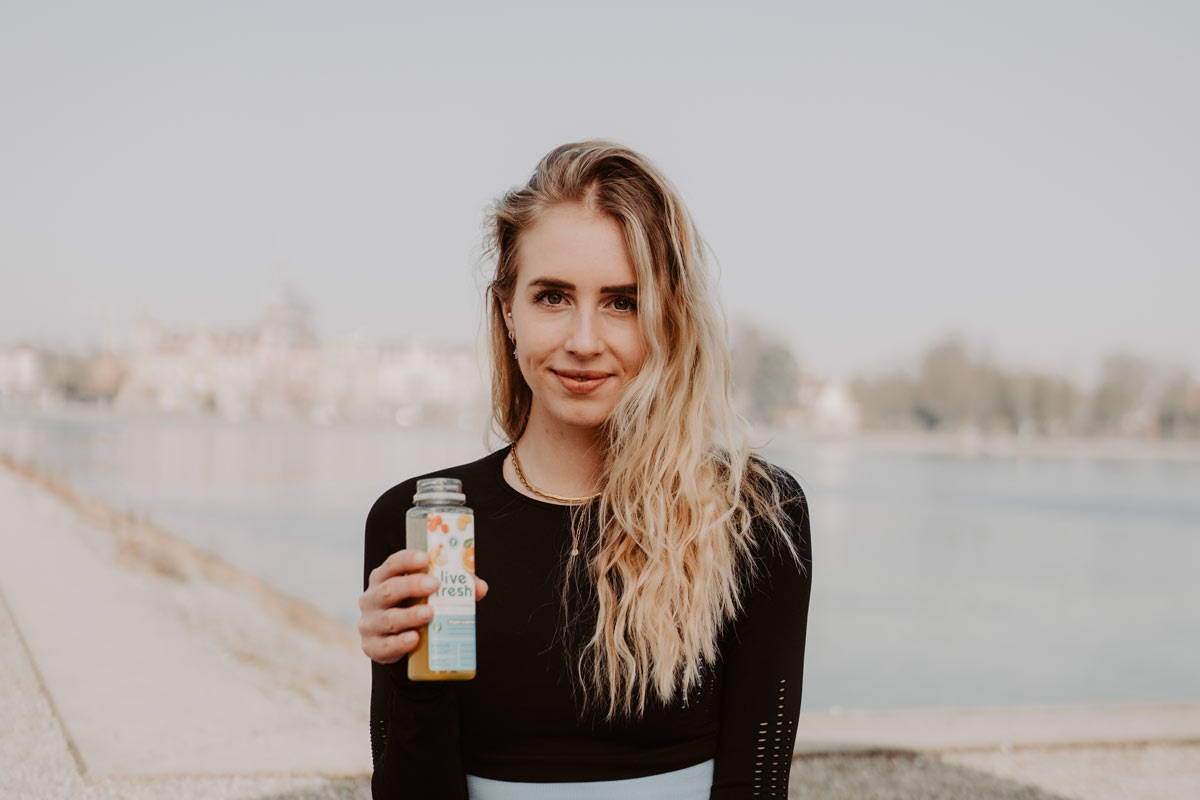 7 juices & 3 shots daily.
You feed exclusively on juices and shots during Cleanse .
Perfect introduction to your dietary change.
With Juice Cleanse you initiate a new time for your body.
The chance to change your habits.
Start a new, healthier diet and put your current eating habits to rest.
Achieve your physical goals.
Use the Cleanse as a kickstart on the way to your feel-good figure and thus to an overall more vital lifestyle.
Juice manufacture in southern Germany
We have everything in our own hands.
We are Simon & Benedikt, the founders of LiveFresh. Born in a student flat-sharing community in 2016, we have built up an innovative juice factory within a short period of time, where we do everything we can every day to produce the best juice in the world from the highest quality raw materials.Since the founding of our juice shop, we have followed the philosophy of keeping the entire value chain in our own hands. From direct contact with the best fruit and vegetable farmers to the production of our fresh juices, we have built up a broad expertise in a short time.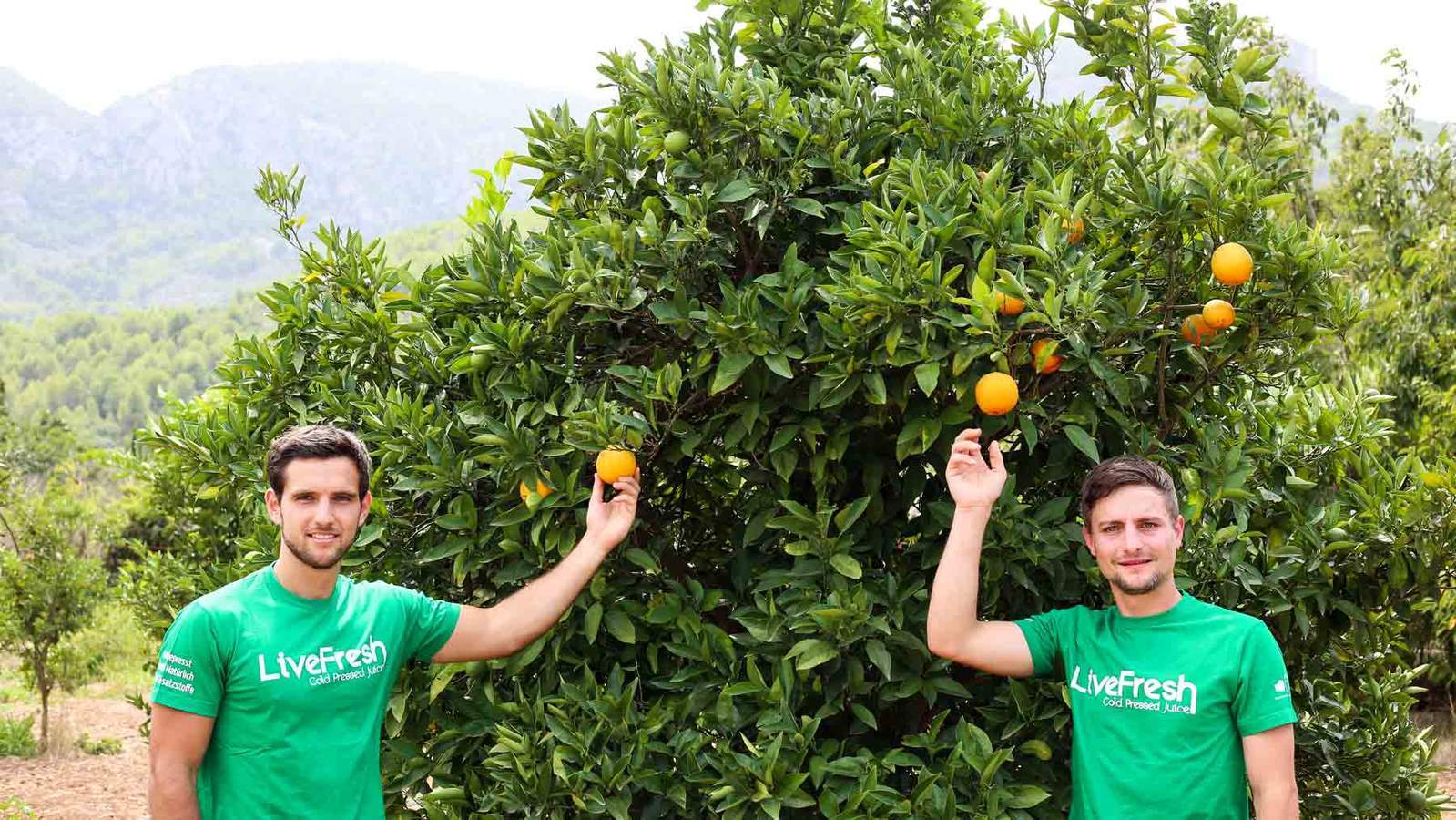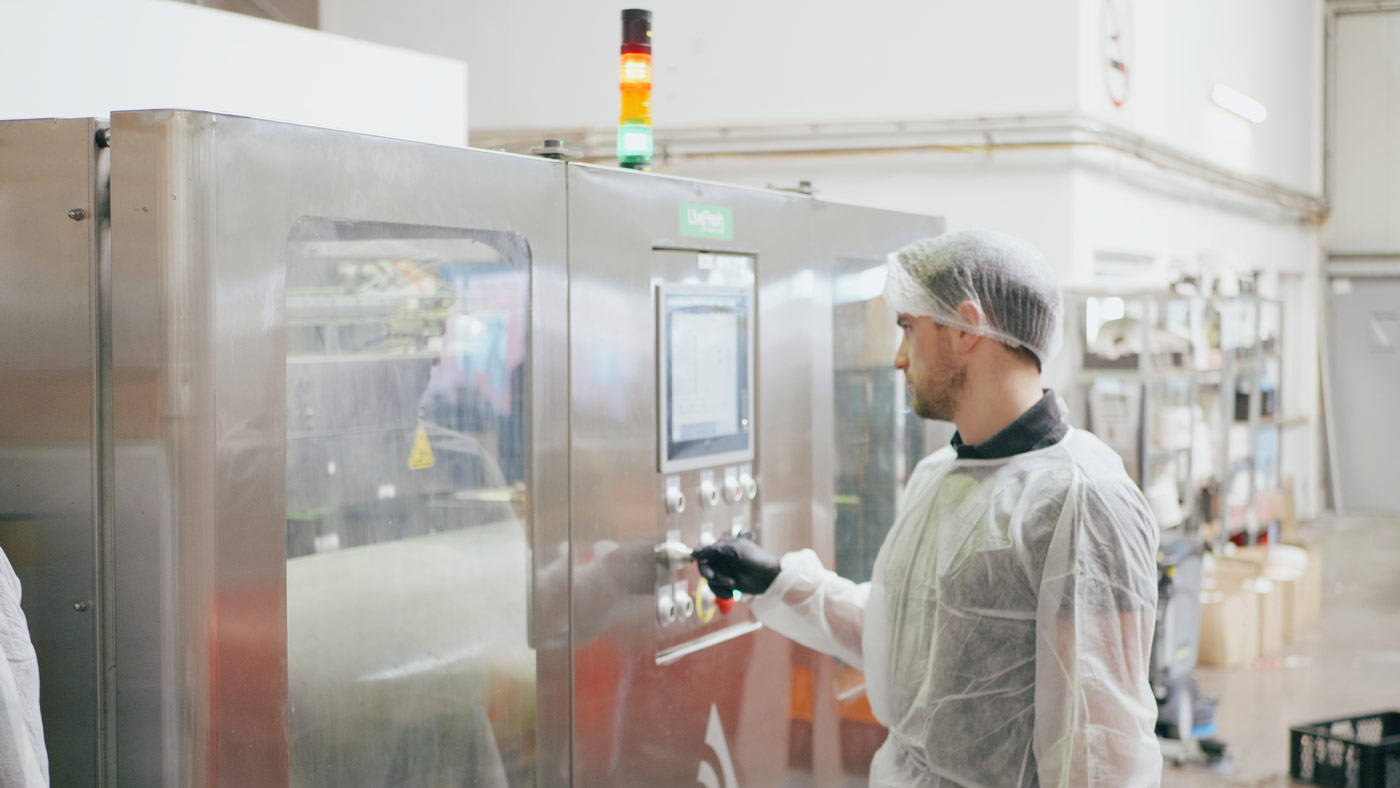 That's what makes us so special.
The unique freshness and quality is obtained through the innovative high pressure process HPP. This means that our freshly pressed juice retains its full flavour and important vitamins without having to pasteurise the juice under heat. This allows us to offer you a truly fresh, cold-pressed juice of the highest quality.
Packaging made from 100% rPET
Made from 100% old PET bottles.
Our new rPET bottles have already had a long life. They are made from recycled PET bottles, which helps reduce waste production. You can take care of them in the yellow bag without worrying. They find their way back to us as a new bottle.
Our rPET bottles have a slightly greyish tint due to the different materials used, which are reused. Of course, this has no influence on the freshness & taste of our juices!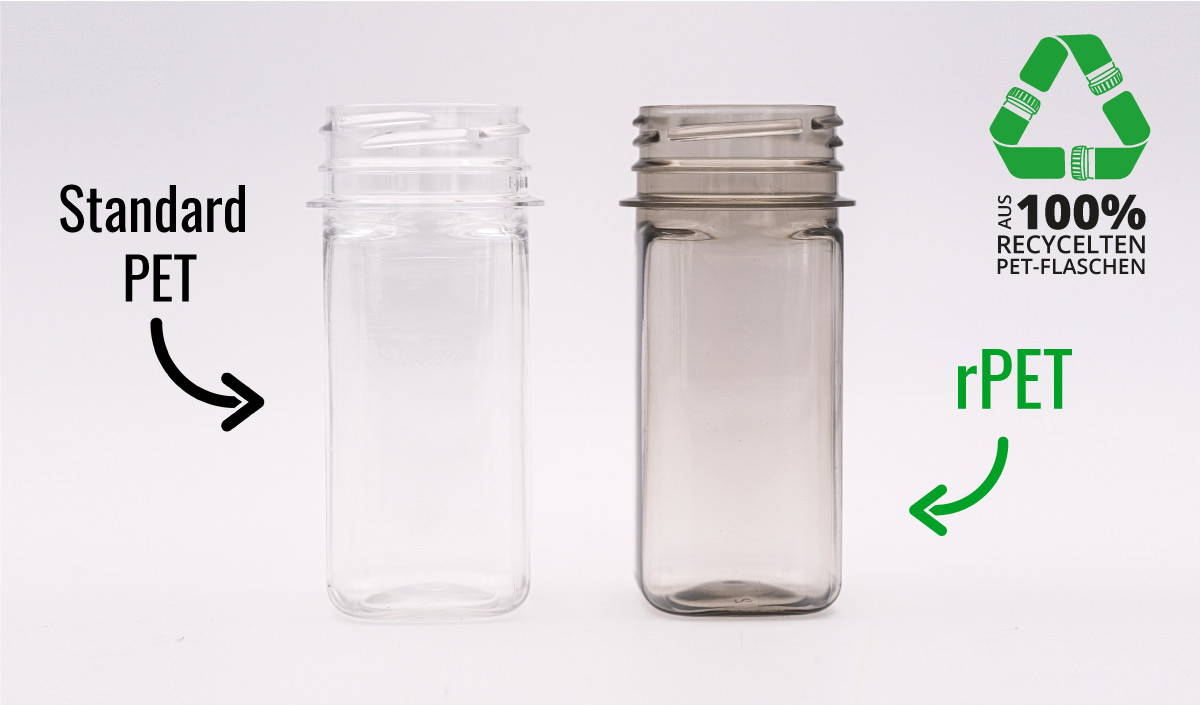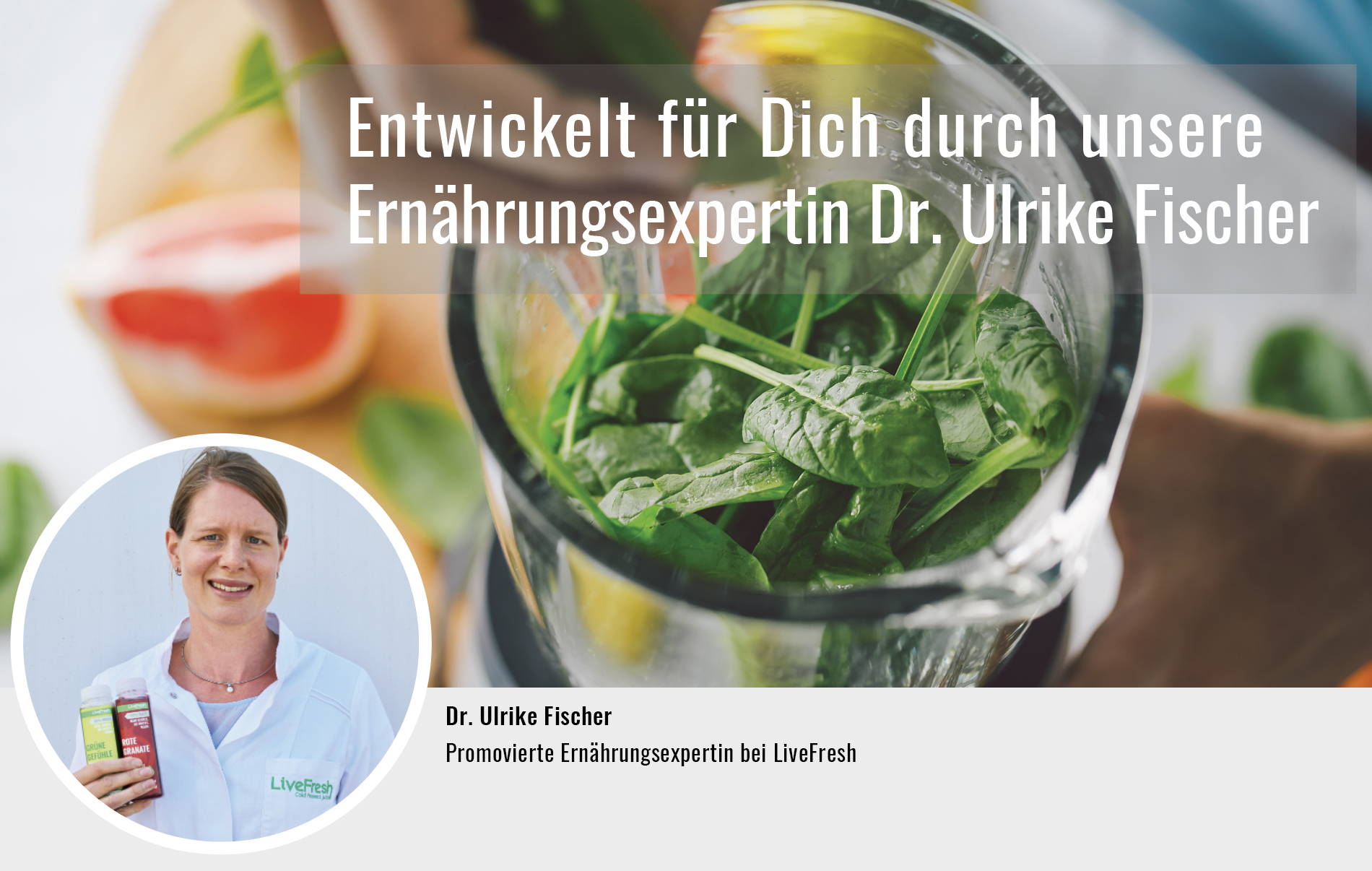 The Juice Cleanse with natural supplements.
Developed on a scientific basis.

Ulrike is a PhD expert and coach in holistic nutrition and health. She has now put her profound expert knowledge about food, nutrition and the holistic approach of a healthy lifestyle into the development of our Juice Cleanses and would like to make her contribution to accompany people on their way to a healthy diet.
You have questions about the cures? Here you can contact Ulrike.
The Classic Juice Cleanse.
3, 5 or 7 days fasting with 7 juices & 3 shots daily.
The classic Juice Cleanse is your first step to a healthier and fitter you. This way you can easily enter the world of juice fasting.
Our expert Tara is always there for you.
If you have any further questions, are unsure or need more information, you can contact us at any time.
How does a classic Juice Cleanse work ? 
A Juice Cleanse or Juice Cleanse is a short period of a few days where you give your body a break: Generally, you only drink juices, water, tea and home-cooked broth over a period of a few days to relieve your body. Solid food is not eaten during this time.
How do I prepare for Juice Cleanse ? 
Avoid very rich foods, sweets and alcohol. You can prepare yourself optimally for Juice Cleanse with light foods such as salads, coconut porridge, steamed vegetables and fish or alternatively little white meat. We will provide you with sample recipes for this right away at Juice Cleanse. You will find everything you need to know in your booklet, which is included in your package.  
What should I do after Juice Cleanse ? 
For the first 2 days after Juice Cleanse you should avoid foods that are difficult to digest, such as meat. You will receive sample recipes from us together with the Juice Cleanse. However, it is important that you listen to your body's signals: Which foods are not good for me? Am I really hungry? Am I already full? You should also continue to give your body food breaks, i.e. no constant snacking. Remember that Juice Cleanse is also a starting point for a healthier lifestyle. Check out our Instagram page for great recipes that you can incorporate into your daily routine after Cleanse .
Can I drink something else during Cleanse ? 
Of course, you should! We recommend drinking at least 2 litres of water or herbal tea (unsweetened) every day. If you find still water too boring, add a piece of cucumber, lemon, rosemary or basil to your water. With so many great things, you can easily spice up your drink and reduce your hunger pangs just by drinking it. P.S.: Make sure you don't drink any carbonated drinks, sweet drinks, coffee or alcohol during Cleanse .  
Am I losing weight through Cleanse ? 
Many people lose weight during Juice Cleanse because you have a calorie deficit during Cleanse . However, it is crucial how you eat after the Juice Cleanse . We will provide you with recipes and tips for this.  
Can I do sport as usual during Cleanse ? 
Sporting activities are not forbidden, of course. However, due to the reduced calorie intake, your body may not work at the same level as you are used to. Listen to your body and don't do the exercises too fast!
How do you send the Juice Cleanse?
You receive an insulated package that delivers your Cleanse chilled to your doorstep. This is how we maintain the absolute freshness of our juices! You can simply return the packaging to us free of charge after Cleanse if you do not want to dispose of it.
Which shipping service providers do you use?
You can choose between DHL and DPD. Above a certain parcel weight, we will also send your parcel free of charge by express. Basically, you can order all Juice Cleanses without additional shipping costs! :-)
How long is the shelf life of the juices?
Due to our innovative shelf life process, our juices can be stored refrigerated and closed for several weeks. You will always find the respective best before date on the lid. Please note: The juices are of course not automatically spoiled if the best-before date is exceeded. Trust your senses and then decide.
How should I store my juices?
The best place to store juices is in the fridge. This keeps them fresh and you can enjoy them cool. Alternatively, you can use a cool bag.
What if my parcel could not be cooled immediately after delivery
Thanks to the HPP process, our juices are super robust and can last for quite some time with little or no cooling.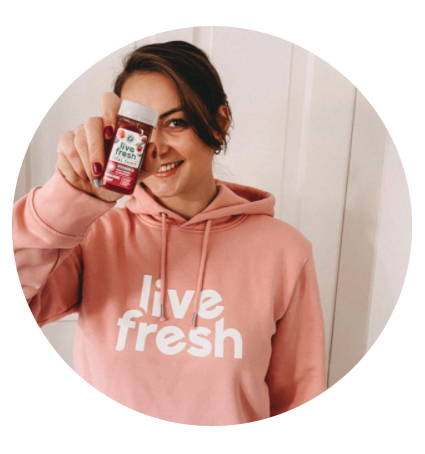 Tara - LiveFresh expert on Juice Cleanses. You can contact her on weekdays between 8:30-17 hrs by phone or simply write to her via WhatsApp.