Fresh Juice Cleanses, customized to your goals.

We offer you a wide range of possibilities to pursue certain goals for your body through juice fasting.
Order now & initiate the reset.
The Classic Juice Cleanse.
3- or 7-day fast with 7 juices & 3 shots daily.
The classic Juice Cleanse is your first step to a healthier and fitter you. This is how you easily enter the world of juice fasting.
7 juices & 3 shots per day I 7 days

7 juices & 3 shots per day I 5 days

7 juices & 3 shots per day I 3 days

3 juice shakes & 3 shots per day I 3 days

3 juice shakes & 3 shots per day I 6 days

3 or 6 days of full-fledged fasting without nutrient deficits.
Use the Cleanse as a kickstart on the way to your feel-good figure and thus to an overall more vital lifestyle.
Cover your daily requirement with one vitamin D shot every day. You will receive a monthly ration consisting of our two new Vitamin D Shots, which ensure that you cover 100% of your daily vitamin D requirement in a natural way.
16x Ginger Pinch I 16x Sunshine Berry

32 Vitamin D shots per month.

32 Iron Shots I One Month

This way you cover 100% of your daily iron requirement in a natural & vegan way. The monthly ration contains 32 shots and can also be ordered as a flexible subscription.
2 weeks to strengthen your immune system & defenses.
Support your immune system with a daily ration of freshly pressed ginger shots for several weeks.


30 fresh ginger shots I 14 days

42 fresh ginger shots I 14 days

500ml celery per day I 28 days

500ml celery per day I 14 days
Enjoy 500ml of fresh celery juice daily for 2 or 4 weeks.
The Cleanse provides you with important vitamins and nutrients without sacrificing anything. Start every morning more vital into the day and find your new healthy morning routine.
The 30-day pomegranate Cleanse
30 bottles for 30 days. One month.
The Juice Cleanse for your body, in which you can take your daily ration of fresh pomegranate juice in 30 days.
incl. VAT. (0,83€/100ml)
30x 250ml I 30 days

Experience on Juice Cleanse: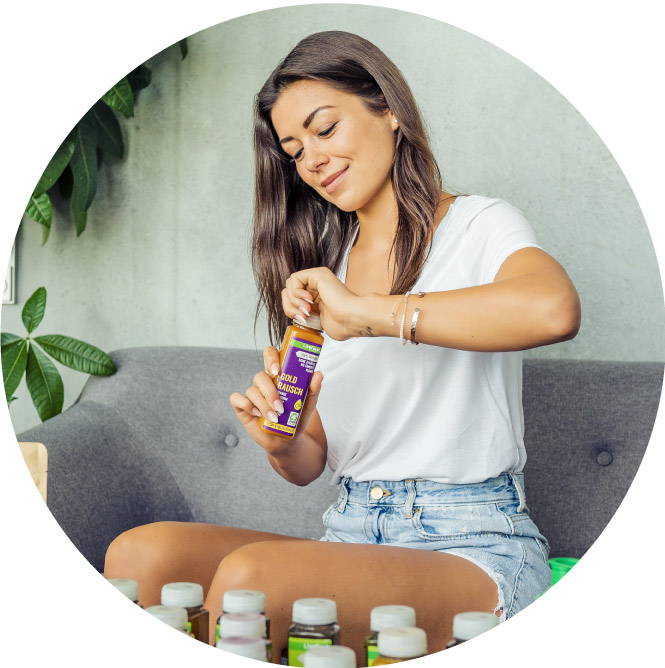 "I approached the Juice Cleanse with no expectations and learned a lot about myself and my body and also about my hunger pangs and controlling myself. I don't just eat away anymore."
"A Juice Cleanse is no walk in the park, of course, and I've often wanted to just quit. But the feeling after a Cleanse is just indescribable. I think everyone should experience it."
"The Juice Cleanse is a good place to start to manage a permanent change in diet and to learn about your hunger pangs. You learn the distinction between hunger and desire."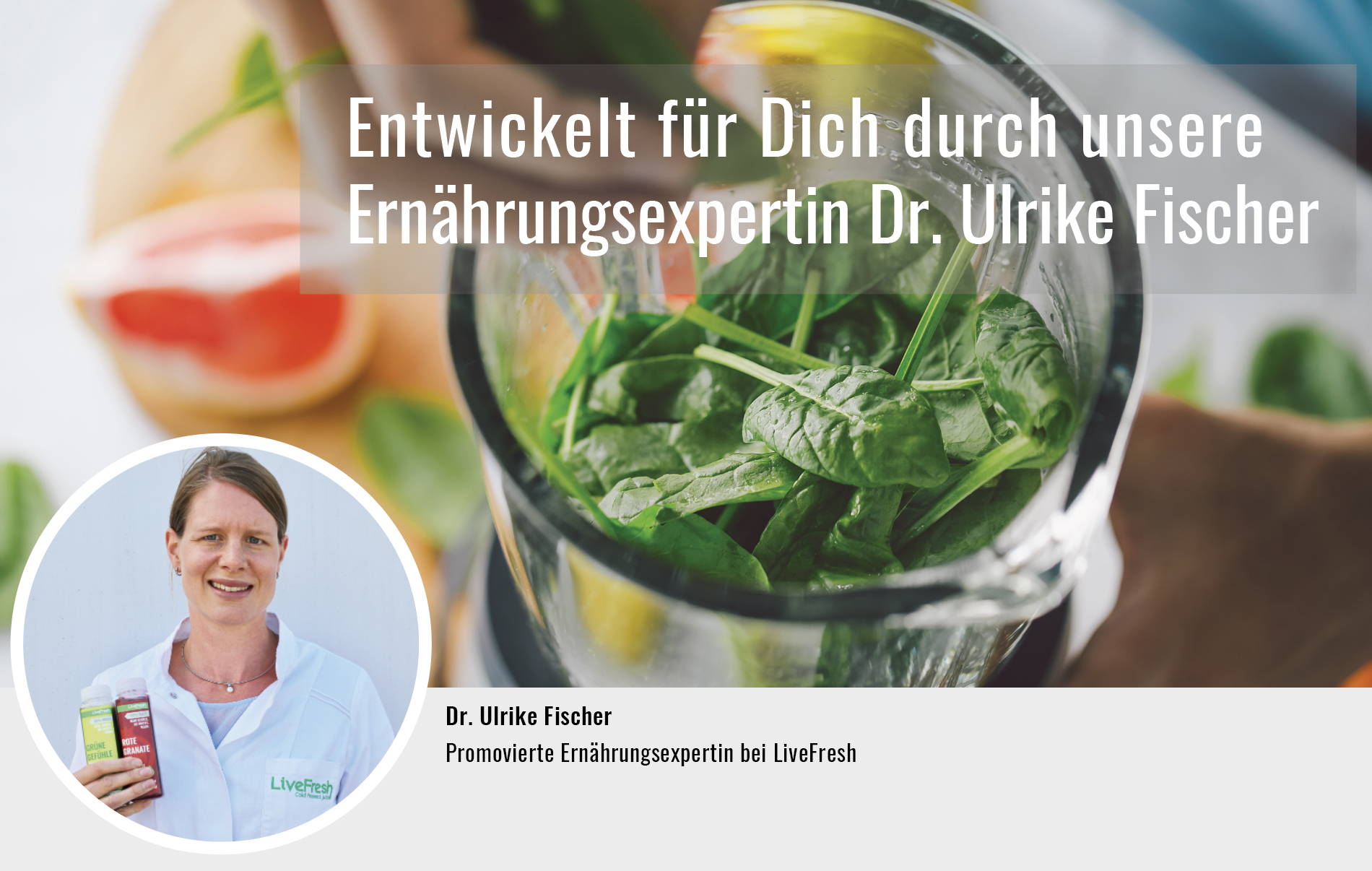 The Juice Cleanse with natural supplements.
Developed on a scientific basis.

Ulrike is a PhD expert and coach in holistic nutrition and health. She has now put her profound expert knowledge about food, nutrition and the holistic approach of a healthy lifestyle into the development of our Juice Cleanses and would like to make her contribution to accompany people on their way to a healthy diet.
You have questions about the cures? Here you can contact Ulrike.
Packaging made from 100% rPET
Made from 100% old PET bottles.
Our new rPET bottles have already had a long life. They are made from recycled PET bottles, which helps reduce waste production. You can take care of them in the yellow bag without worrying. They find their way back to us as a new bottle. Our rPET bottles have a slightly greyish tinge due to the different materials that are recycled. Of course, this has no influence on the freshness & taste of our juices!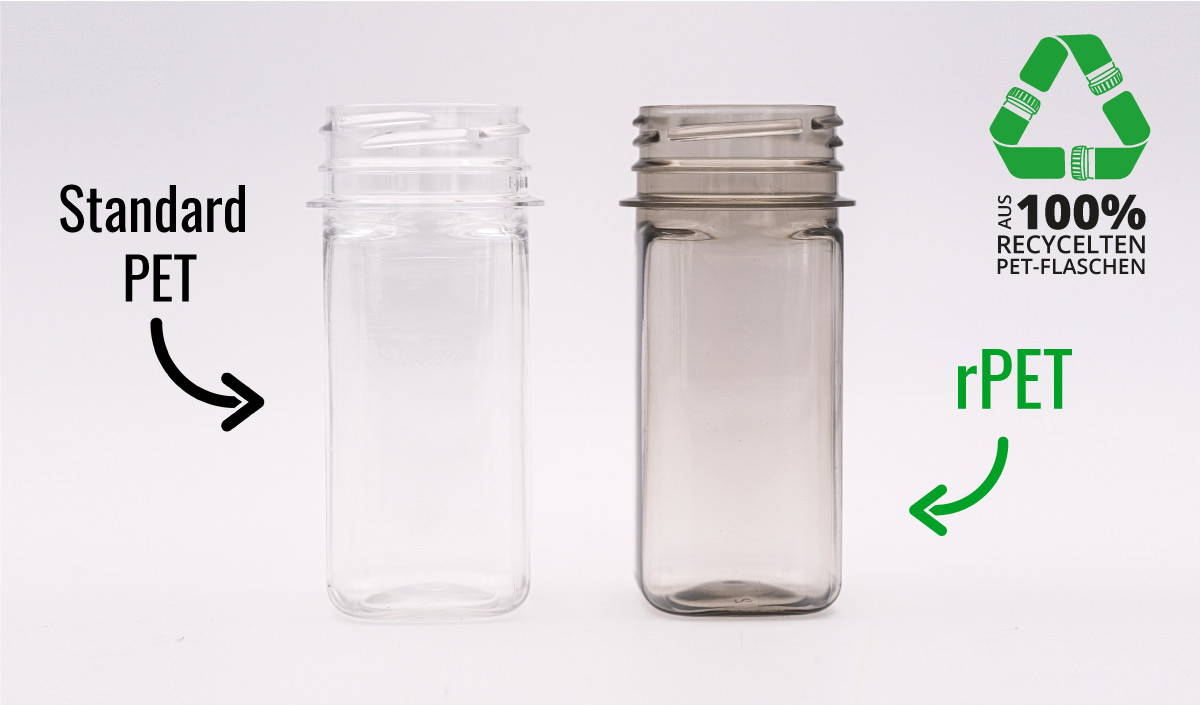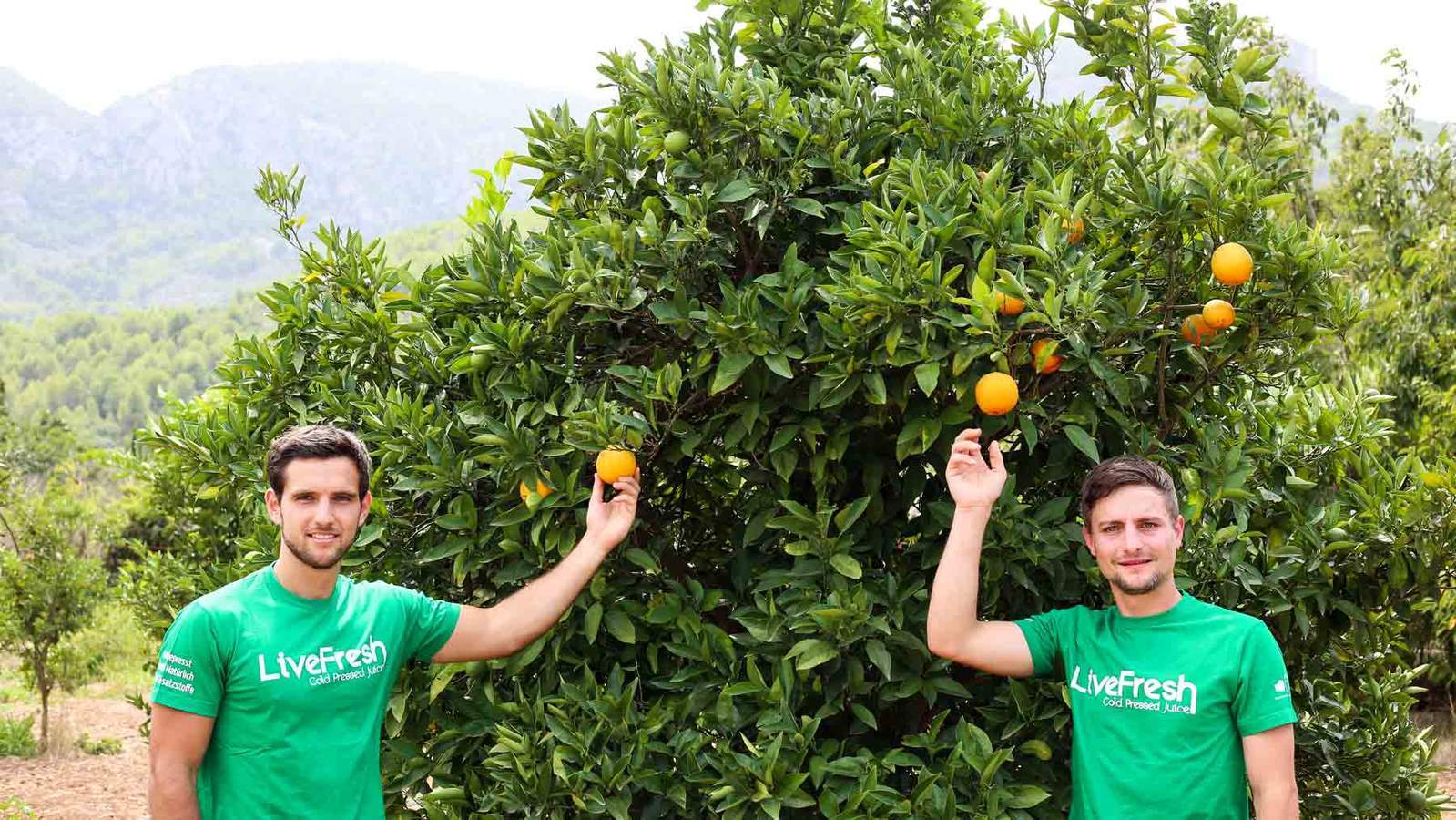 Juice manufacture in southern Germany
We have everything in our own hands.
We are Simon & Benedikt, the founders of LiveFresh. Born in a student flat-sharing community in 2016, we have built up an innovative juice factory within a short period of time, where we do everything we can every day to produce the best juice in the world from the highest quality raw materials.Since the founding of our juice shop, we have followed the philosophy of keeping the entire value chain in our own hands. From direct contact with the best fruit and vegetable farmers to the production of our fresh juices, we have built up a broad expertise in a short time.
The production. We are different.
Conventional juices on the market are mostly pasteurized and thus lose their important vitamins & flavor already before bottling. Unlike conventional juices, our juice is cold pressed, i.e. not exposed to harmful heat at any time (pasteurized), so that many important nutrients and vitamins are preserved. Our juice is bottled cold directly after pressing and therefore never comes into contact with heat.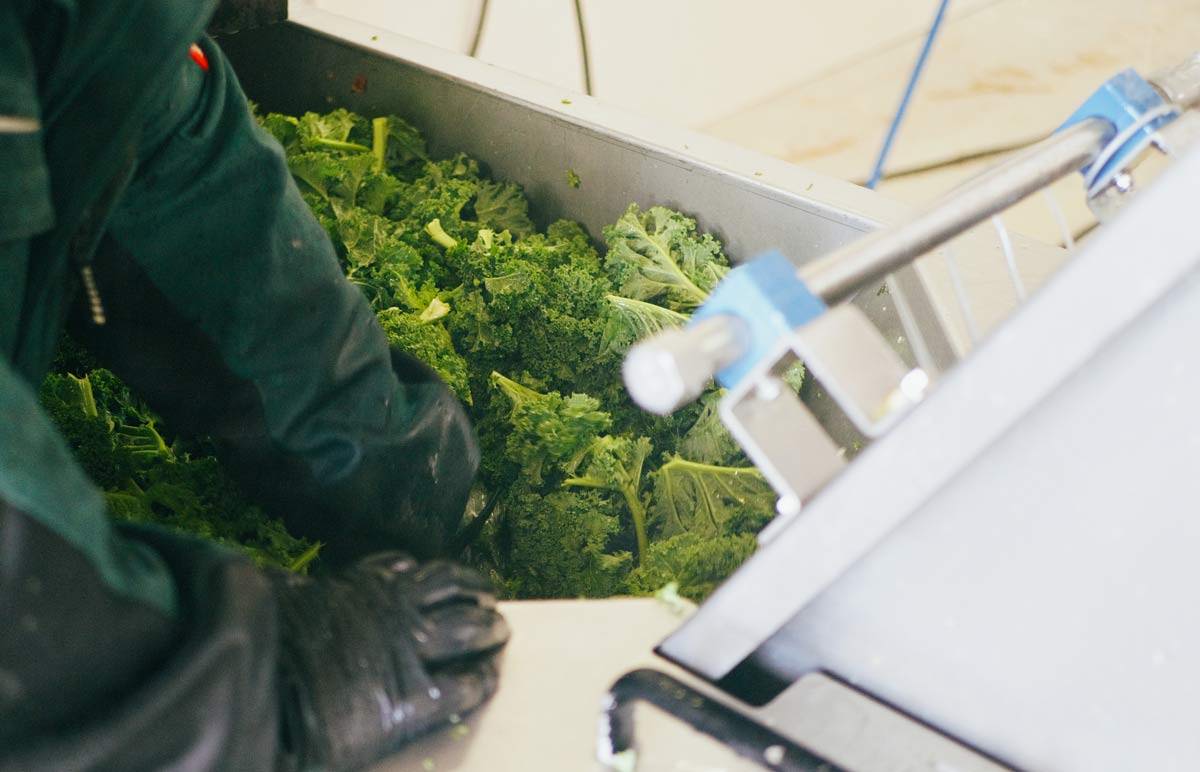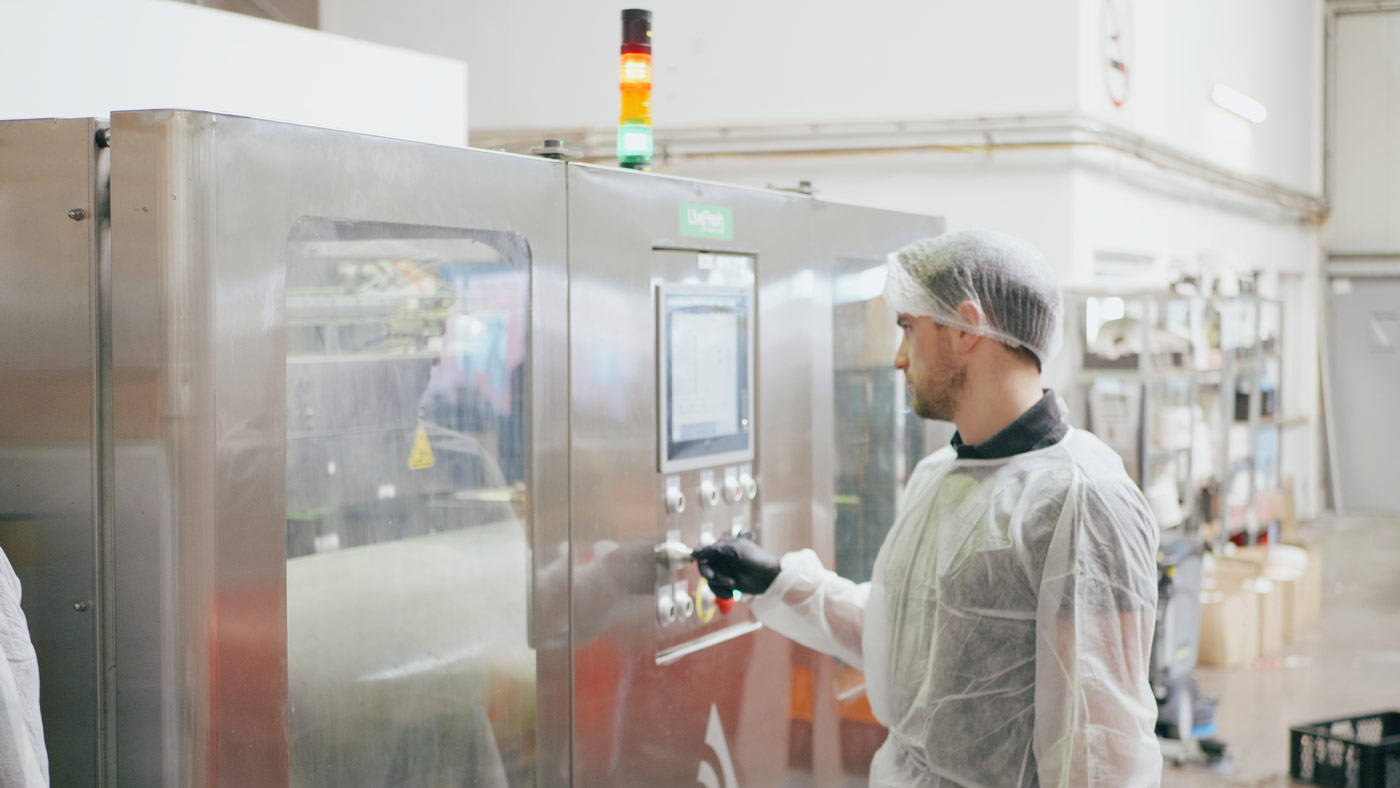 That's what makes us so special.
The unique freshness and quality is obtained through the innovative high pressure process HPP. This means that our freshly pressed juice retains its full flavour and important vitamins without having to pasteurise the juice under heat. This allows us to offer you a truly fresh, cold-pressed juice in the juice box of the highest quality.
Questions about Juice Cleanse?
When is the best time for a Juice Cleanse?
Always - as long as you're ready! The important thing is that you take your time. For the preparation, the Juice Cleanse and afterwards for the follow-up. With our booklet you already have a good guide at your side and can integrate the juices into your everyday life without any problems. PS: Shopping & planning for lunch & dinner are fortunately no longer necessary during the Cleanse.
Is a Juice Cleanse useful for starting a conscious diet?
By all means! The Juice Cleanse is designed to help you get to know your body better and give it a chance to recover from everyday stresses. An advantage of our Juice Cleanse is that you will receive a booklet from us, in which various healthy dishes are presented for the preparation and follow-up of the Cleanse . Therefore you can use your Juice Cleanse in any case as a start into a more conscious and healthier lifestyle.
How often can and should I do a Juice Cleanse ?
There is no general answer to this question. Of course, we are convinced that our juices & shots should become an integral part of your diet, as they are simply good for your body. Many of our customers fast every 3-4 weeks and others 3-4 times a year. And others only once, for example to start the new year better or to recover from something. The proof of the pudding is in the eating!
How does a classic Juice Cleanse work ?
A Juice Cleanse or Juice Cleanse is a short period of a few days where you give your body a break: Generally, you drink only juices, water and tea over a period of a few days to relieve your body. Solid food is avoided during this time.
Am I losing weight through Cleanse ?
Many people lose weight during Juice Cleanse because you are in a calorie deficit during Cleanse . However, it is crucial how you eat after the Juice Cleanse . For this you get from us recipes and tips to the hand.
How do I prepare for Juice Cleanse ?
Avoid very rich foods, sweets and alcohol. With light food like salads, coconut porridge, steamed vegetables and fish or alternatively little white meat you can prepare yourself optimally for the Juice Cleanse . We will provide you with recipes for this right with the Juice Cleanse. You will find everything you need in your booklet, which is in your package.
Which Juice Cleanse is the right one?
Do you want to support your immune system and feel more energetic? Then Shot Cleanse is just right for you. You can choose between 2-week intensive and 4-week routine, depending on what suits you.
Would you like to feel lighter and better and perhaps lay the foundation for a change in diet? Then the wellnessJuice Cleanses and the full-fledged Juice Cleanses 2.0 are super suitable.
If you often have cravings, we recommend the full-value Juice Cleanses 2.0. Here, the juice is supplemented with high-quality rice protein and linseed oil and thus, in addition to the better absorption of vitamins, a long-lasting satiety is achieved. Hot hunger after Juice Cleanse is counteracted. Both juice cure variants are available in short and long versions, depending on how much time you can allow yourself for this.
If it's your first Juice Cleanse , we recommend you choose quiet days to start, such as the weekend. Experienced juice fasters already know their body better and can therefore better assess their energy level. However, avoid stressful phases and very heavy physical work.
How does a Juice Cleanse work ?
At Juice Cleanse you drink only juices or juice shakes made from juice and high-quality rice protein powder and flax oil for a certain period of time.
How does a Shot Cleanse work ?
With a Shot Cleanse you drink shots daily in addition to your normal diet.
With the Juice Cleanse you can:
give your body a rest
get a better sense of your body, hunger and especially satiety
feel lighter
hit the reset button and initiate your dietary changes
Am I losing weight through Juice Cleanse ?
Most people lose weight during Juice Cleanse because, in addition to fewer calories, less food volume is consumed. However, it is crucial how you eat after the Juice Cleanse . We will provide you with recipes and tips for this right away.
What are the advantages of a Juice Cleanse?
With Juice Cleanse you get everything you need to feel fitter, better, lighter and more energetic. Including tips for preparation and the time after the Juice Cleanse. So you don't have to worry about anything but yourself!
Avoid very rich foods, sweets and alcohol. With light food such as salads, coconut porridge, steamed vegetables and fish or alternatively little white meat you can prepare yourself optimally for the Juice Cleanse . We will provide you with sample recipes for this right away at Juice Cleanse.
Are there any side effects?
The side effects vary from person to person. Some report headaches from coffee withdrawal. Occasionally, a slight feeling of dizziness occurs. However, there are many others who feel consistently great and have much more energy.
What should I do after Juice Cleanse ?
The first 2 days after the Juice Cleanse you should avoid foods that are difficult to digest, such as meat. You will receive sample recipes for this from us together with the Juice Cleanse. However, it is important that you listen to the signals of your body: Which foods are not good for me? Am I really hungry? Am I already full? You should also continue to give your body food breaks, i.e. no constant snacking.
Our experts Ulrike & Tara are always there for you.
If you have any further questions, are unsure or need more information, you can contact us at any time.


+49 1792690636
Tara - LiveFresh expert in all things. No one knows our products like she does and has the knowledge to get you started on a healthier lifestyle. You can call her on weekdays between 9am-5pm.
ulrike@livefresh.de
Ulrike is a PhD nutrition expert at LiveFresh and deals with the optimization of a healthy lifestyle on a daily basis. You can reach her at any time by email.