Cover your daily requirement with our cold-pressed vitamin D shots.


No formula. No pill. No capsule.


100% Natural Vitamin D from Mushrooms.


One shot covers your daily requirement of vitamin D.
This is how you get rid of your vitamin D deficiency.
Through our vegan cold-pressed shots you have the possibility to absorb vitamin D through a fresh juice on a 100% natural basis.
Vitamin D tasting package
16x Vitamin D Shots
With the tasting package you can convince yourself of the unique taste and the 100% freshness.
32x Vitamin D Shots
With the monthly ration you can naturally secure your daily requirement of vitamin D over a month.
You want to subscribe to the Iron Shot?
For long-term use of the vitamin D shots, a flexible monthly subscription is ideal, which you can cancel at any time. With the subscription you also save 10% on every order!
You can also order our vitamin D shots by variety.
Individually and on subscription.
Why Vitamin D from LiveFresh?
Through a normal diet it is often extremely difficult to cover its daily requirement of vitamin D. You have to include a relatively extremely vitamin D rich diet in your everyday life. In the following chart you can therefore see the significant advantage of a LiveFresh shot compared to common foods with vitamin D.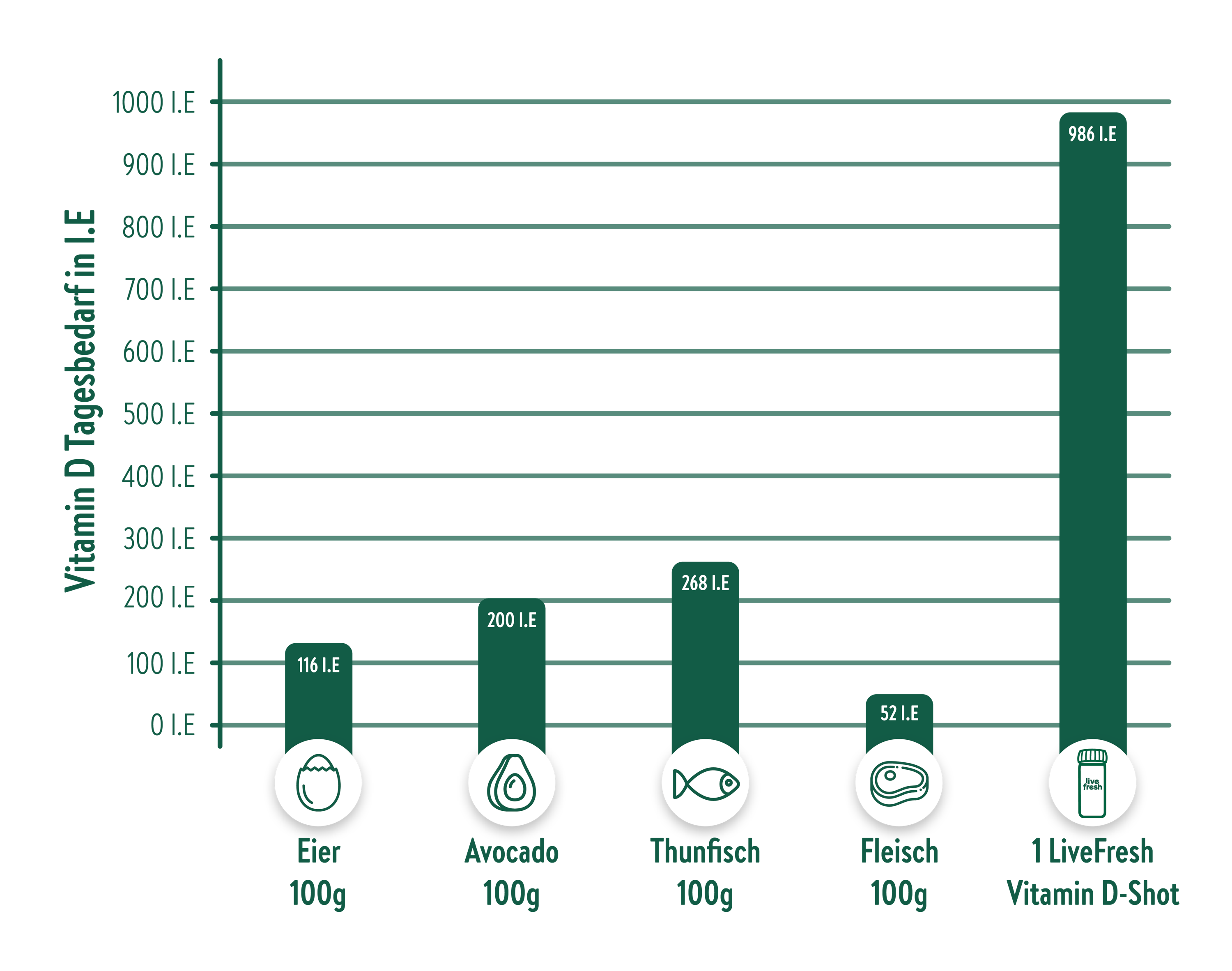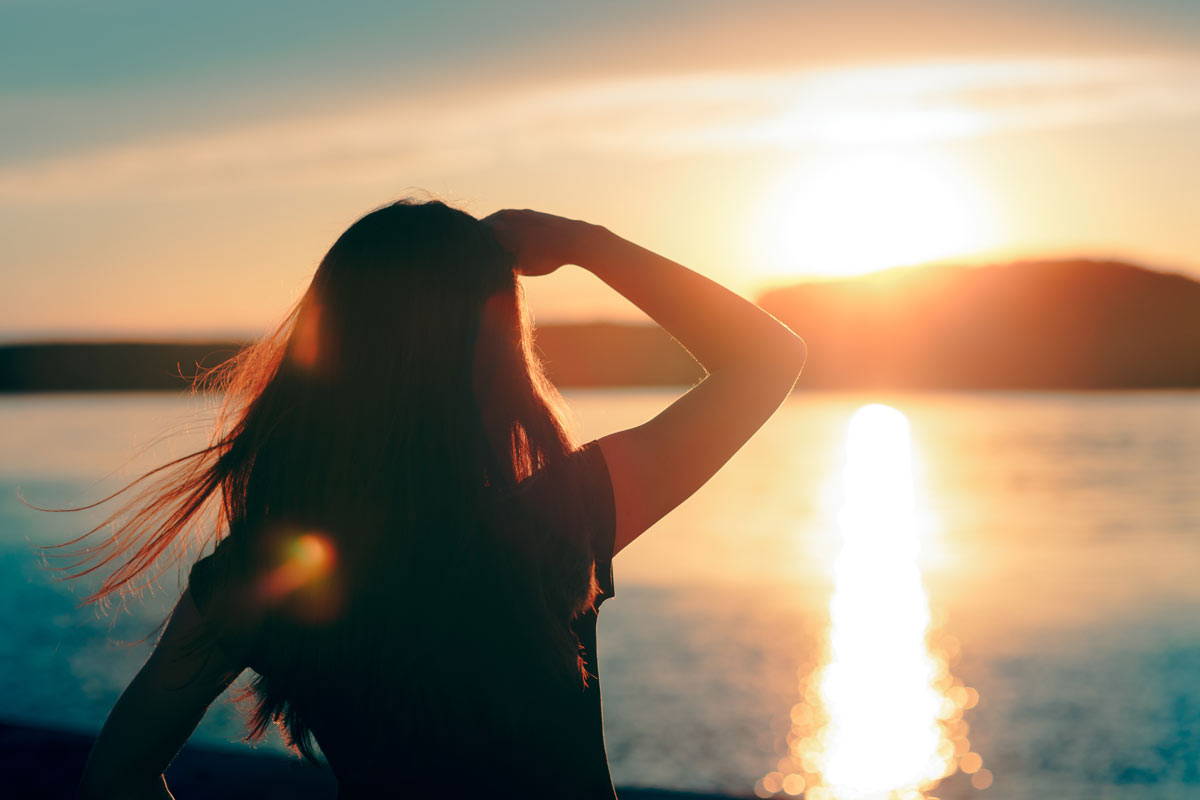 The problem: Vitamin D deficiency
60% of our society suffers from vitamin D deficiency.
The absorption of vitamin D is mainly through the sun, which for this, however, is very high must beespecially in the summer months.. Here is the rule of thumb: If the shade is longer than the body height, as good as no vitamin D production takes place. Depending on the skin type, about 30 minutes in a bikini or swimming trunks in the midday sun are necessary to cover the daily vitamin D requirement. On how many days a year is that possible in Germany? 30 or maybe 40 days? Unfortunately, this is not sufficient, as vitamin D cannot be stored for long. In addition, many day creams already contain light protection factors and prevent the body's own vitamin D production. In addition, the lifestyle is mostly indoors due to work or hobbies, even in the summer months. Also there is no healthy possibility to cover the vitamin D requirement sufficiently through food.
Why take it as a shot of LiveFresh?
We want to support you in promoting your well-being and preventing deficiencies. Therefore, we have developed our two special vitamin D shots in collaboration with our nutrition expert Dr. Ulrike Fischer. With the help of our natural companions Sunshine Berry and Ginger Prise you can easily cover your daily vitamin D requirements and enjoy a refreshing and naturally delicious shot drink at the same time. You take the vitamin D that is so important for your body in a highly dosed form, without taking tablets or capsules and associating it with a medicine. We give you the opportunity to secure your vitamin balance with a natural food. The vitamin D in our functional shots is vegan and 100% natural.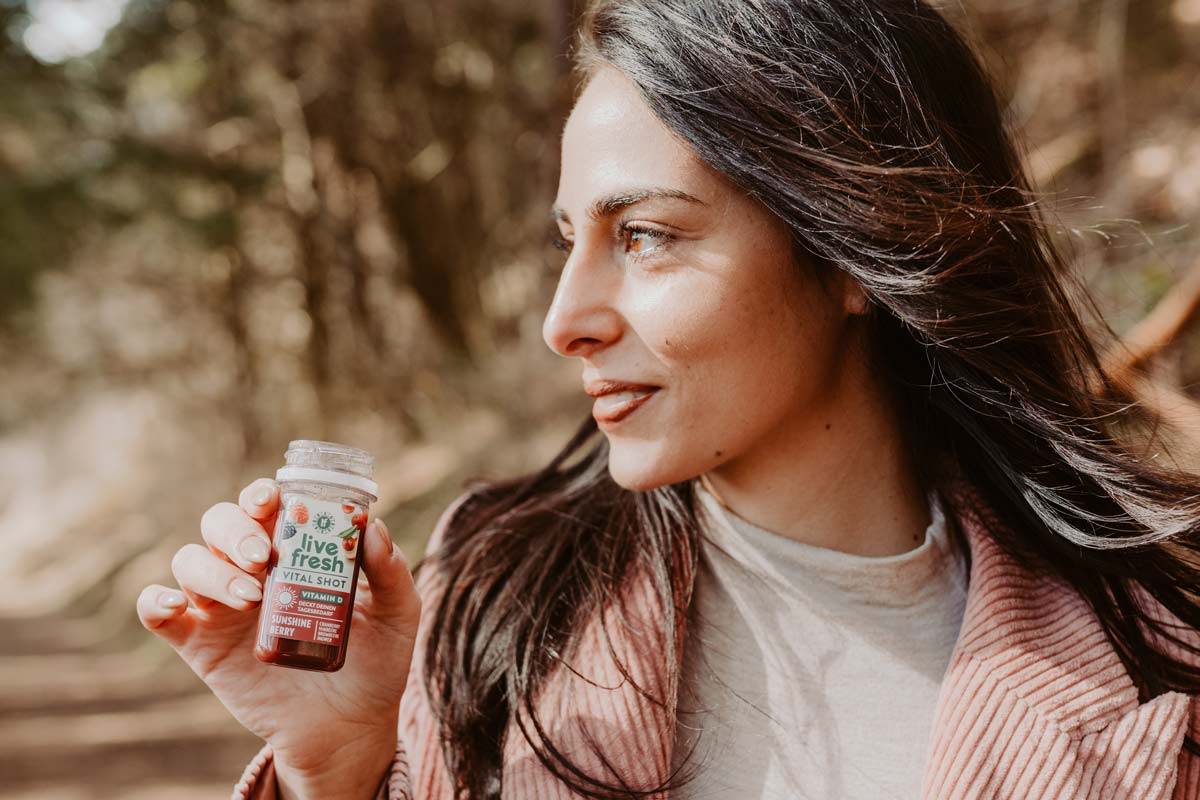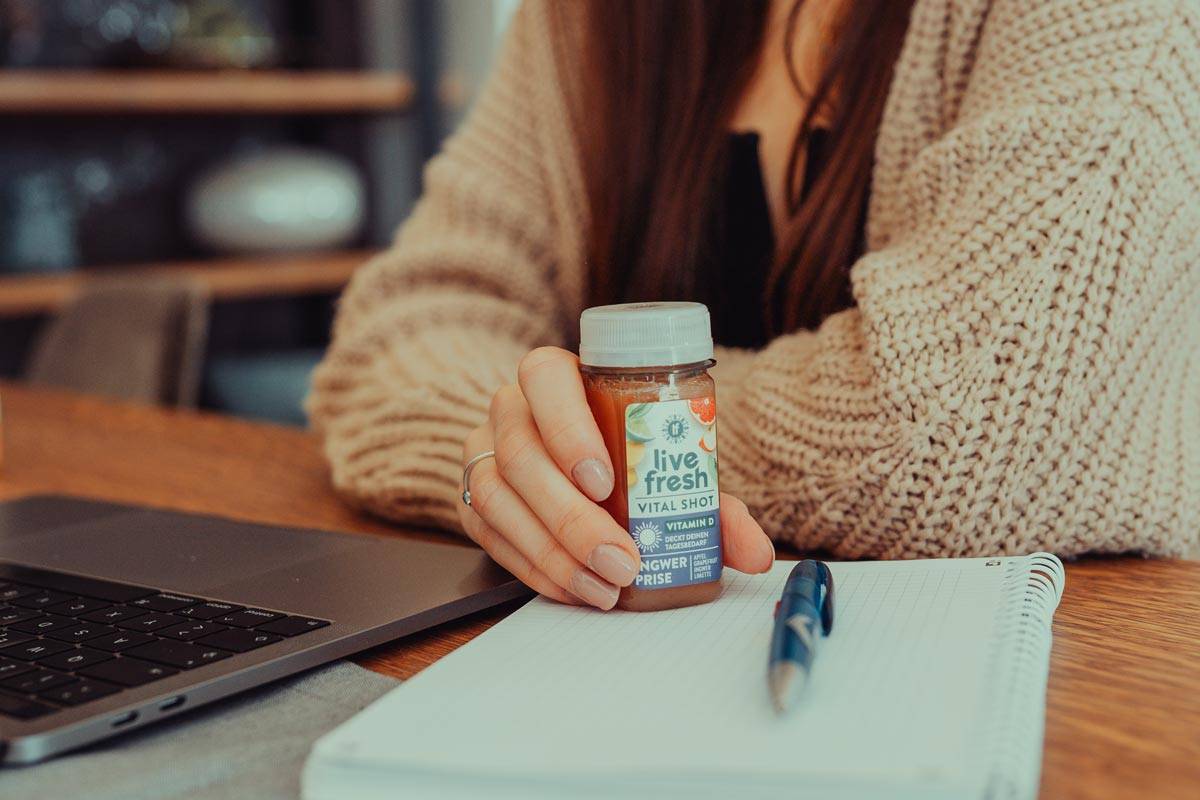 How should I take the vitamin D shot?
Regularly incorporate into your daily routine.
For optimal absorption, we recommend drinking the shot either with breakfast or lunch. Taken in the evening, the sun vitamin could disturb the night's rest a bit, because your body gets confused and expects daytime with sun. Since it is a fat-soluble vitamin, the shot should be taken with a meal if possible, or immediately before or after. Drink 1 shot per day. Since vitamin D can only be stored in the body for a very short time, the daily requirement of 20 µg must be met daily to achieve the health effects.
How do I recognise a vitamin D deficiency?
Almost all cells in the body have a vitamin D receptor, thus it intervenes in the the metabolic processes of different organs . Vitamin D deficiency can therefore cause a wide variety of symptoms that affect different areas of the body, such as:
General condition: Lack of strength, lack of drive, loss of energy, constant exhaustion and dejection. Musculature: Cramping, twitching, trembling, pain, weakness. Bones: Pain Teeth: Periodontitis Circulation: Circulatory and circulatory problems, feeling cold, especially in hands and feet Nervous system: Sleep disturbances, constant tiredness and fatigue, concentration disorders, inner restlessness, coordination disorders Immune system: Susceptibility to infections
Should I have my vitamin D level measured?
The correct intake of vitamin D is essential for Js individual intake is different, as it depends on the existing deficiency and other individual factors, such as length of time spent outdoors, use of sunscreen, consumption of fish, etc. It is therefore recommended to have one's vitamin D level tested, in order to in case of a severe deficiency (<30nnmol/L) to take larger amounts of vitamin D in the first few weeks, if necessaryso that the deficiency compensatedcan be compensated more quickly. It is important for the determination of vitamin D in the blood that the storage form of the vitamin D (25-OH vitamin D) is used. All other values in the blood are subject to daily fluctuations. The value can be determined by the doctor or with a test kit directly at home.
Who should take vitamin D in addition?
All persons who spend most of their time indoors & cannot go out into the midday sun for 30 minutes every day. Nn't eat fish every day. Vegetarians and vegans. Pregnant and breastfeeding women. Children and young people. Elderly persons.
What are the consequences of vitamin D deficiency?
Since vitamin D is found in almost all cells and has a great effect on many organs, a deficiency can also affect very many areas of the body. One of the strongest effects can beon the bones.. Thus a vitamin D deficiency in infants and children lead to the bones remaining soft (rickets). In adults, on the other hand, the bones can become soft (osteomalacia) and later more easily lead to bone fractures in the event of falls and lead to osteoporosis. In addition, a deficiency is often associated with various chronic diseases.
Our experts Ulrike & Tara are always there for you.
If you have any further questions, are unsure or need more information, you can contact us at any time.


+49 1792690636
Tara - LiveFresh expert in all things. No one knows our products like she does and has the knowledge to help you get started on a healthier lifestyle. You can call her on weekdays between 8:30am-5pm.
hallo@livefresh.de
Ulrike is a PhD nutrition expert at LiveFresh and deals with the optimization of a healthy lifestyle on a daily basis. You can reach her at any time by email.